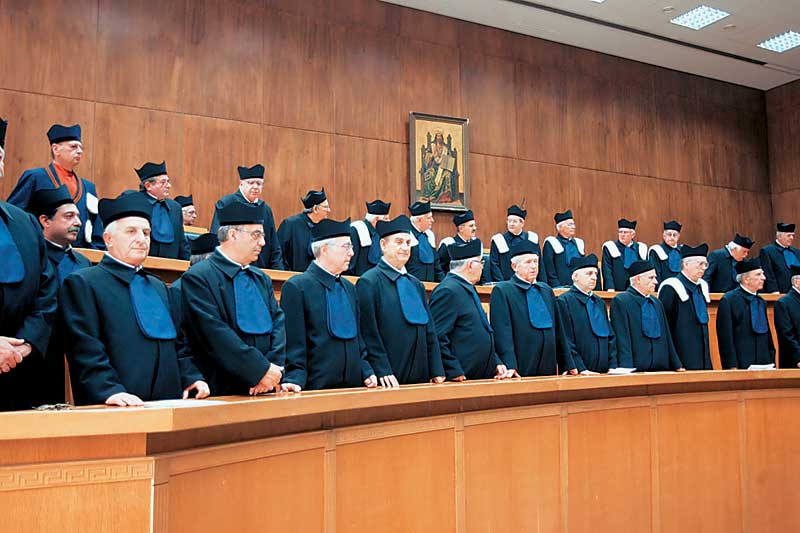 By Lefteris Yallouros – Athens
Greece's Supreme Court (Areios Pagos) is called upon to rule whether or not member of Greece's neo-Nazi Golden Dawn party will be allowed to take part in local elections in May. The country's top court will also decide next week if Golden Dawn and its offshoot National Dawn will be given the go-ahead to take part in European Parliament elections on the 25th of May.
The deadline for Greek political parties to submit their candidates running in the local elections expired Sunday night. The Supreme Court's judges will now rule by May 3rd if the candidate lists submitted are eligible. The procedure is the same for the European Parliament election and will be concluded by May 11th.
Golden Dawn MPs face prosecution on charges of setting up a criminal ring. Six of the thirteen deputies prosecuted are currently held in prison, including party leader Nikos Michaloliakos.
Parliament is set to vote on Wednesday on lifting the immunity from prosecution of four more Golden Dawn MPs as well as a former party deputy. Magistrates have requested they are stripped of their immunity. Furthermore, extra charges will be brought against detained party leader Nikos Michaloliakos and MPs Christos Pappas, Yiannis Lagos, Giorgos Germenis, Panagiotis Iliopoulos, Nikos Michos and Stathis Boukouras, who quit the party last month in an attempt to distance himself from criminal activities.
Should the Supreme Court decide to forbid Golden Dawn from taking part in the May election battles, the ruling will reshape Greece's political landscape and consequences are highly difficult to predict.
Checks on party statutes are considered routine procedures. Despite the fact that it won't be the first time a party is banned from running in an election, the current circumstances are far more significant as Golden Dawn consistently comes third or fourth in latest opinion polls.
Greek daily "To Vima" reports the Supreme Court is likely to take a common stance regarding both far-right parties, Golden Dawn and National Dawn, considering they are essentially one party. The newspaper's sources say judges are likely to rule Golden Dawn should not run in one of the two elections at least.
How parliament votes on the lifting of the immunity of all Golden Dawn MPs as requested by magistrates is expecting to have some bearing on the decision.