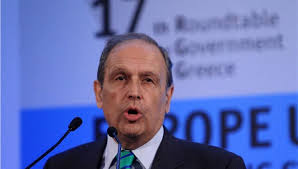 By Lefteris Yallouros – Athens
The Chairman of Greece's Privatization Agency "TAIPED", Stelios Stavridis, was sacked by the country's Finance Minister Yannis Stournaras for using the private jet of businessman Dimitris Melissanidis whose private fund bought a 33 pct stake in state gambling firm "OPAP" recently.
Stavridis was asked to step down with immediate effect in a brief statement by the Finance Ministry for travelling to his holiday home in the private jet owned by tycoon Melissanidis.
Stavridis, who only served for four months, is the second TAIPED chief to leave in less than six months. The Fund is now left with a pressing program to push through without anyone at the helm.
Yannis Emiris, the chief executive of Hellenic Republic Asset Development Fund told Reuters, however, that the privatization program will not be hindered by Stavridis' resignation.
"Melissanidis, who was travelling to France, offered to take me with him to accommodate me," Stavridis told the press Monday. He added that he did not regret accepting the offer and had nothing to hide. Stavridis also said he wasn't sure the incident wasn't just used as an excuse by the Finance Ministry for his sacking.
It is widely acknowledged that Stavridis's management of the Fund was considered poor by the troika. The country's lenders have been pushing for revenue from privatizations to be boosted. However, targets for 2013 will not be met.
Reports in the Greek press suggest the troika will now attempt to have a say in who is selected as the next TAIPED chief. According to sources, Yannis Emiris, the current chief executive of the Asset Development Fund, could be installed as interim chairman although the government will need to issue legislation allowing the same person to take both the CEO and Chairman positions, which is not currently allowed.