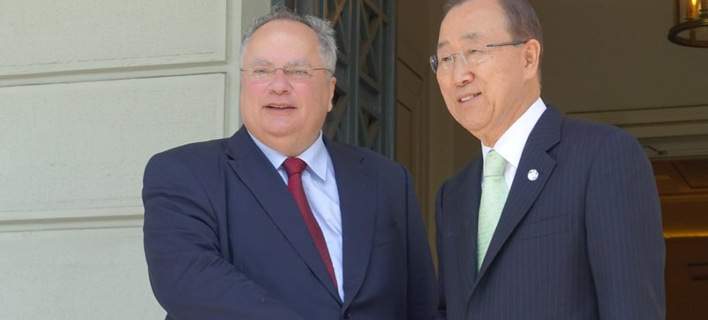 Anyone who thinks that Alexis Tsipras is controlled by his ministers probably doesn't know Alexis Tsipras very well. If those who write about Nikos Kotzias' part in the failure of the talks in Mont Pelerin  knew him even in the slightest they wouldn't even begin putting pen to paper.
Alexis Tsipras, of course doesn't know everything, but he bases his decisions on the various information he has available to him. It goes without saying that he would not allow himself to be faced with an ultimatum in the shape of a threat by his own Foreign Minister, which is what many wrote happened. If this was indeed the case, Nikos Kotzias would almost certainly be seeing the door.
It is the first time that Athens has a comprehensive and documented position on the issue of guarantees in Cyprus. A position which has been made public since April 2015, after Tsipras' first visit to Cyprus in February with the presence of the Greek Foreign Minister as well as during Kotzias' visit to the US in April.
It is worth noting  that immediately after the meeting with the UN Secretary General Ban Ki-moon in New York, the Greek Foreign Minister stated: "If the Turks want a solution quickly, all they have to do id leave the island very quickly" and continued "it is an issue (the Cyprus issue) that fundamental standings where an internal solution of the problem are concerned is a matter for Nicosia, while I pointed out (to the UN SG) that we, as a guarantor power, what we want for us, but also for Turkey is for it to withdraw from Cyprus'.
It is clear that Nikos Kotzias spoke of the withdrawal of the guarantor powers then. Something that had the consent of both the Greek Prime Minister and the Cypriot leadership. Moreover there are many public reports, both from Kotzias and the Greek Prime Minister as well as the President of Cyprus.
Lets not forget that a few days before the "inglorious" ending of the negotiations in Mont Pelerin there was a meeting between Prime Minister Alexis Tsipras and Cyprus President Nicos Anastasiades, in the presence of the two Foreign Ministers, where detailed information on developments was carried out as well as on planning concerning what was to follow. It doesn't need something other than simple logic to understand that the publications that tried to create a crisis in the relations between Greece and Cyprus, want something that is far from finding a Cyprus solution./IBNA