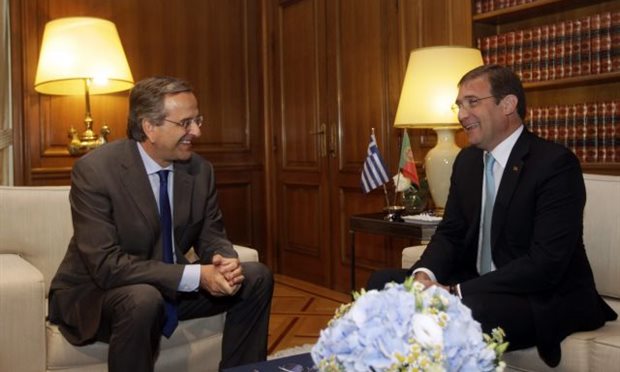 By Lefteris Yallouros – Athens
Addressing a joint press conference in Athens with his visiting Portuguese counterpart Pedro Passos Coelho, Greek premier Antonis Samaras indicated that Greece was re-establishing control of its finances. "Soon we will be able to certify the sustainability of our debt without new memorandums, without the need for new loans," he said.
However, with a Eurogroup meeting in Milan on Friday set to discuss progress in the implementation of the country's adjustment program, a fresh loan – accompanied by a new set of reform and adjustment measures – is also very much on the cards.
Greek government and troika auditors are set to resume discussions on a review of the Greek adjustment program later this month in Athens, focusing on Greece's projected budget and financing gaps for 2015.
A senior eurozone official revealed earlier this week that the current second program can be extended, or a potential third program may be implemented should Greece make such a request. Should the Greek government consider there is no need for a new program, the country will have to turn to markets for funding.
The same eurozone official, stated that "the monitoring of the Greek economy will continue anyway, as Greece collects the profits from the Greek bonds that the European national central banks hold, which is particularly important for the course of the debt, so we need to have a picture."
The European program expires on December 31, while funding from the International Monetary Fund is set to continue up to February 2016. A way forward for the EU institutions and the IMF will be sought out imminently as it is widely acknowledged that the European Commission and Central Bank are not prepared to allow Greece to be funded solely by the IMF without European participation.
Friday's Eurogroup meeting is another step towards the commencement of talks on Greek debt relief as the evaluation of progress recorded in the implementation of the Greek program will set the tone of the much-awaited negotiations.
The results of European Central Bank – run stress tests on 120 eurozone banks, includind Greece's four systemic lenders, is also considered crucial to developments related to a possible third EU-sponsored loan to Greece.