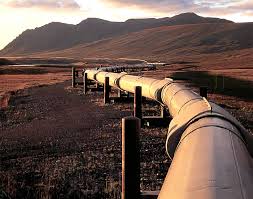 By Lefteris Yallouros – Athens
Greek Prime Minister Antonis Samaras recently visited Azerbaijan hoping to persuade the country's government to choose the Trans Adriatic Pipeline (TAP), which will pass through Greece, to transport its natural gas to Europe.
The official visit to Baku was regarded a success by the Greek government. It now seems that optimism on the Greek side has valid grounds.
The decision between TAP and Nabucco (stretching from Azerbaijan, across Turkey and up through the Balkans) is expected in June from partners in the Shah Deniz consortium, led by gas field operator BP and Azeri state energy company Socar.
Reuters reported Tuesday that the European Union (whose obvious choice was Nabucco because 'Nabucco West' would cross former eastern bloc countries that depend the most on Russia for energy) now says it would be happy with either pipeline or even both. TAP's External Affairs Director, Michael Hoffmann, characteristically told the news agency that "there has been a dramatic shift".
The fact that Azeri gas supplies account for a mere 2 percent of EU needs may have something to do with that.
It is evident that political leverage in this "energy battle" will prove critical. Since there are advantages and disadvantages for the Azeri's in both choices, political support for the TAP might be enough to get it picked over Nabucco.
Greece has a lot running on this deal as it could potentially create over 2.000 jobs and aid the country's ailing economy with over EUR 1.5 billion estimated as tax revenue and approximately EUR 35 billion in overall revenue over 50 years from its operation.
Besides the pipeline, Greece's energy sector has a couple of the gems the government is hoping to profit from. Gas company DEPA, and its gas-network operator, DESFA are up for grabs via Greece's privatization drive.
In fact, Russian energy powerhouse Gazprom is considered a hot favorite to acquire DEPA with Russia΄s other energy firm, Sintez Group, ruling itself out of the running for the gas company this week but, also, still maintaining its interest in DESFA.
Socar is also considered to be amongst bidders for DESFA although Greek officials maintain this has no connection to TAP.
It is clear that the Greek government has to play "political hardball" if it is to achieve maximum gain from the energy game. Prime Minister Antonis Samaras is heavily involved in talks over both the DEPA – DESFA and TAP deals. If he succeeds, it will be regarded as a major achievement for him as well as a financial and geopolitical victory for Greece.