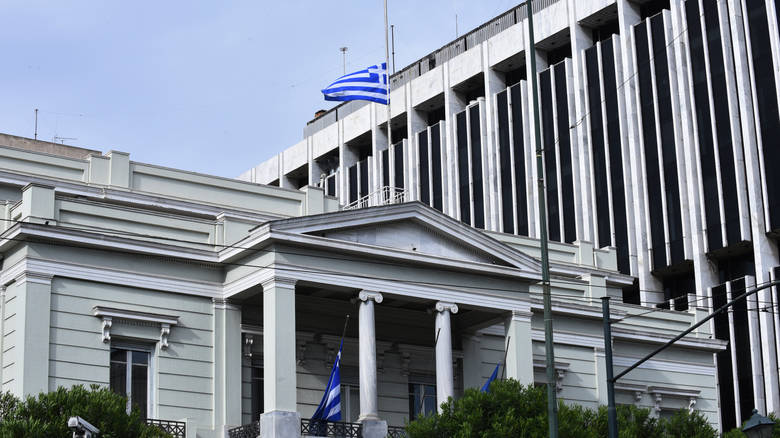 The Greek Foreign Ministry responded strongly to the Russian Foreign Ministry's announcement that said – among other things – that "the decision of the 'Macedonian' Parliament that voted in favor of changing the name of the country has been imposed externally and does not reflect the will of the people". Athens is also accused of ignoring the will of the Greek people and is not even contemplating a referendum on the issue.
Meanwhile, the Russian Foreign Ministry believes that "the latest developments in Greece – such as the withdrawal of Panos Kammenos' Independent Greeks, who oppose the Prespes agreement, from the coalition government; and the vote of confidence motion – also confirm the existence of the explosive situation threatening to undermine stability and security in the Balkans". Finally, the Russian Foreign Ministry statement doesn't rule out an appeal to the UN Security Council over the issue.
The Greek Foreign Ministry responded directly and strongly to the Russian Foreign Ministry announcement.
"From the moment it was signed, the Prespes Agreement has already contributed to stability and peace in the Balkans. It is an internationally recognized model of dispute resolution between two independent sovereign states under the auspices of the UN without any third party intervention. Disputes have long undermined the prospect of the peoples of the region to coexist peacefully and to work together for the sake of stability and security in the region.
Our international partners are called upon to respect the spirit and the letter of the Agreement and to welcome the fact that the political leaderships of the two countries have demonstrated the necessary political courage to reach a solution to a particularly thorny issue while, at the same time, defending their national interests.
The invocation of political developments within friendly states by the Russian Foreign Ministry is incompatible with the quality of the relations between Greece and Russia and the long-standing bonds of friendship between our peoples. At the same time, it raises a legitimate concern as it overlooks the coordinated and effective democratic functioning of the institutions in Greece, the Constitution of which has clear provisions for dealing with every possible contingency in the domestic political order, which is certainly not an appropriate field for third-party commentary.
We are confident that Russia, which has recognized FYROM for many years as the "Republic of Macedonia" will respect the sensitivities of the Greek people in the use of the name Macedonia, and will from now on call this country under its new constitutional name, that is, "Northern Macedonia", and, most importantly, it will refrain from making similar declarations in future, that constitute a clear intervention in Greece's internal affairs"./IBNA