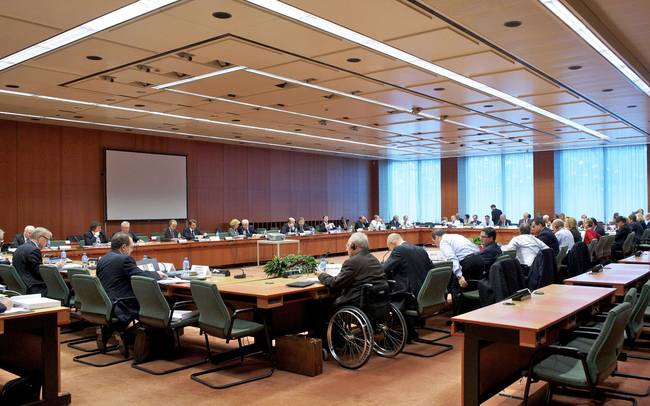 Athens, March 1, 2016/ Independent Balkan News Agency
By Zacharias Petrou
A working dinner with the participation of the International Monetary Fund, possibly represented by Paul Thomsen, Eurogroup officials and other representatives of Greece's creditors will reportedly be held Wednesday evening in Brussels aiming at bridging differences of opinion between the European Union creditor institutions and the IMF over Greece.
EU inspectors were likely to return to Athens for the review of Greece's bailout program as early as this week, but the International Monetary Fund – which projects a wider than initially estimated fiscal gap by 2018 and believes debt relief is necessary – "was not as cooperative", a government official told Reuters.
For the time being no Greek representative is scheduled to be present.
The EU creditor institutions and the IMF have different estimates regarding the fiscal gap Greece must bridge this year through a combination of austerity measures and spending cuts.
At the same time that the institutions are trying to find common ground on the fiscal front, Greek Finance Minister Euclid Tsakalotos will also be in Brussels to participate in the Financial Affairs Committee of the European Parliament. Tsakalotos will seek to discuss the stalled bailout program review with interested parties, according to Greek government sources.
In any case the next crucial date for the future of the bailout program review is March 7 for when a Eurogroup meeting is scheduled as institution sources stress the need for talks at political level now.
Alexis Tsipras said in an interview on Star TV late on Monday night that "there is an ongoing effort to persuade the IMF" to return and that this may happen in the first ten days of March. Tsipras also noted that the IMF must take a turn towards realism so that the program review can be wrapped up and that European institutions more or less agree with the views of the Greek government.
Meanwhile, on Tuesday Economy Minister Giorgos Stathakis stressed the need for completing the program review as soon as possible.
"We do not have the luxury the review to be extended, it must be completed as soon as possible and that is the government's aim. I believe that it is the other side's aim as well," Stathakis said in an interview on Greek radio station Real FM.
"The review must close; it is highly imperative for the economy and there is no reason why it should not close" the Greek Economy minister added.