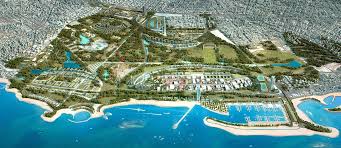 Greece's influential archaeology council (KAS) convened on Tuesday to decide whether or not any parts of a former airport site in the area of Elliniko have an "archaeological interest".
KAS discussed the comprehensive development plan and the environmental impact study for the Elliniko project, a landmark privatization in the country.
After a marathon session, the Council reportedly ruled that more than 30 hectares of Elliniko, the site of a major real estate investment, is of archaeological interest.
Lamda Development, the selected investor for the 7 billion euro development of Athens' former airport in Elliniko, has tabled a plan which foresees the construction of buildings in the areas declared to be rich in antiquities.
Lamda Development's plans include the creation of a metropolitan park in the area, as well as the construction of residential zones, hotels, shopping centers, theme parks, museums, open-air cultural venues, health and life centers, sport and leisure facilities.
It is not yet clear if the KAS ruling will further delay the project or to what extent the development plans will be affected. Greek media reports citing sources close to the investors to be disappointed with the decision. Parts of the media suggest the company could claim large amounts in compensation if its plans are significantly altered.
The initial reaction of the Greek government is thought to be "cautiously optimistic". Government sources maintain that a step was made towards the implementation of the investment with the simultaneous protection of cultural heritage and observance of the law.
The KAS decision is considered to be a compromise between the government and the Council, the members of which had reportedly been expected to characterize a much larger part of the Elliniko plot as having archaeological interest, thus jeopardizing the entire investment.
Greek Prime Minister Alexis Tsipras is keen to get the Elliniko investment off the ground and has urged competent ministers to make sure the last remaining obstacles are dealt with. The attraction of major investment to Greece is key to the country's economic recovery, according to the government narrative./IBNA