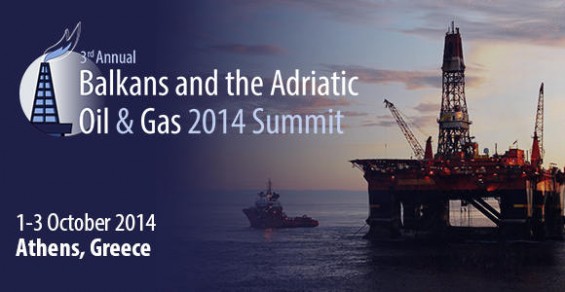 By Lefteris Yallouros – Athens
At the Official Press Conference for the 3rd Annual Balkans and the Adriatic Oil & Gas Summit, organised by IRN, on 30th September in Athens, the Minister Yannis Maniatis, from the Ministry of Environment, Energy and Climate Change, Greece; the Deputy Minister, Dorian Ducka, Ministry of Energy and Industry, Albania; HE Ivan Velimir Starčević, Croatian Ambassador to Greece and the Head of Department of International Relations; and Ivana Gardasevic, Ministry of Economy, Montenegro, addressed key oil and gas developments happening in Greece, Albania, Croatia and Montenegro respectively.
Western Balkans oil and gas developments
Albania holds continental Europe's largest field and is relicensing oil blocks. Greece is opening new areas for exploration. Montenegro just closed its licensing round and is reviewing the proposals offered. Croatia is closing its licensing round in November for their offshore blocks and in February for its onshore blocks.
Questions were addressed by the Press in attendance to the international panel consisting of; Dael Dervishi, the Executive Director, from the National Agency of Natural Resources (AKBN); George Alexopoulos, the General Manager for Group's Strategic Planning & Development, from Hellenic Petroleum SA; Mark Hodgson, Vice President, Business Development and Deputy General Director, from Bankers Petroleum; and Neil Hodgson, Director of Geoscience, Spectrum ASA.
Hellenic Petroleum and Bankers Petroleum represented the investors' interest and point of view for Balkans hydrocarbon prospects. Spectrum, having acquired seismic data for offshore and onshore Croatia, gave public updates about the geological prospects in the Adriatic.
At the 3rd Balkans and the Adriatic Oil & Gas Summit that is taking place on 1st-3rd October at the Hotel Grande Bretagne in Athens, entities that will gather for the discussions include; Anadarko Petroleum, Bankers Petroleum, Dana Gas, DEPA, Edison, Enel, Energean Oil and Gas, ExxonMobil, Gazprom, Gripen Oil & Gas, Hunt Oil, INA, Marathon Oil, OMV, Petroceltic, Petromanas, Plinacro, Ratio Petroleum, Russneft, RWE Dea, Shell, Sterling Energy, Sumitomo Corporation, Trans Adriatic Pipeline (TAP), Transatlantic Petroleum, Vegas Oil & Gas, Zarubezhneft, DESFA and 70 other companies.
Y. Maniatis: We've come a long way in just three years
Greek Energy Minister Yannis Maniatis expressed optimism over the "most promising indications" of hydrocarbon reserves in the region and stressed the necessity of enhanced transborder cooperation in the exploration and production of oil and gas. Maniatis said the Greek government has managed to make strides in the last three years and kick – start developments that had stalled for almost 20 years.
"Good news in one country also benefits neighbors, since the interest for investments in the field increases," he said.
In particular for Greece – which is opening new areas of exploration – the minister said the Adriatic Sea, the Ionian Sea and offshore fields south of Crete are areas where research has come up with not just encouraging signs but highly promising ones. Maniatis also stressed the importance of cooperation in the energy sector with Croatia, Montenegro, Albania and Italy.
Hellenic Petroleum calls for consistency
George Alexopoulos, General Manager for Hellenic Petroleum's Strategic Planning and Development as well as Mark Hodgson, Business and Development Vice President and Deputy General Director from Bankers Petroleum, the largest foreign investor in Albania in recent years, added that of critical importance to investors is also the business friendly environment with fiscal consistency and regulatory transparency.
Greek Licensing Round
The offshore licensing round of Western Greece, the "Greece Mega Project" was officially announced on 1st July 2014 by the Minister of Environment, Energy & Climate Change, Yannis Maniatis and a delegation of governmental officials in London.
Greece will open up 20 offshore and three onshore blocks ranging from 1,800 to 9,500 sq. kilometers in western Greece and the south of Crete with the expected investments touching roughly EUR 150 billion over the next thirty years.
Companies will have six months to submit their offers. After the assessment and negotiation period is over, exploration activities are expected to start in September 2015.