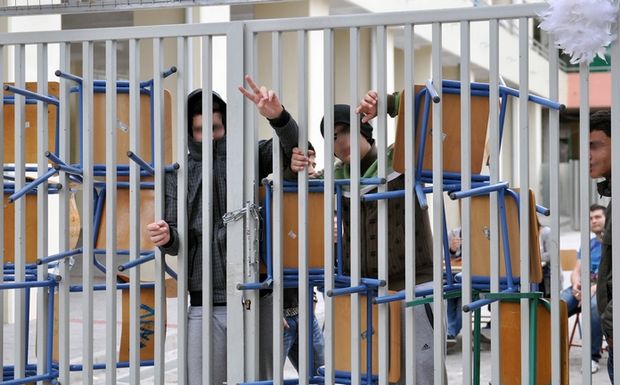 By Spiros Sideris – Athens
Dozens of schools across the country are occupied, with students reacting to the new system of examination with the "bank of issues", the changes that were made with the "new school' bill, the underfunding of schools and the shortage of teachers identified in some units.
In his speech to the House, Education Minister Andreas Loverdos spoke of the 500 schools that are under occupation. He spoke of "a big problem that cannot stay like that", adding that "we must all consider what is causing problems to the children and the student community".
The Education Minister, after stating that he was informed that the phenomenon is common in view of the anniversary of the University November 17, he wondered what would happen with the lost teaching hours. "This is a big problem and that is repeated every year does no interest me. We must consider what is causing problems in children and the school community", Loverdos said, warning that" there is a presidential decree, which regulates what should happen in these cases".
This bill that came into effect last year states that the hours lost due to squatting – if it exceeds three days – will be replenished during holidays, or even weekends.
The wave of squatting includes schools from Attica, Thessaloniki, Epirus, Tripoli, Rethymnon, Chania and Heraklion, while already ​​the first student demonstrations have taken place, organised through the Facebook, with the slogan: "Spread it; together we will not let them play with our future, to turn us into laboratory animals and machines of memorisation".
In their page at Facebook, students have posted a list of schools that participate in the mobilisation, along with and texts that explain their positions.
"This squatting, is not because of the laziness of students. It is aimed at improving education and not stopping it", is written, among other things, in a text that is posted by the high school students of the region.