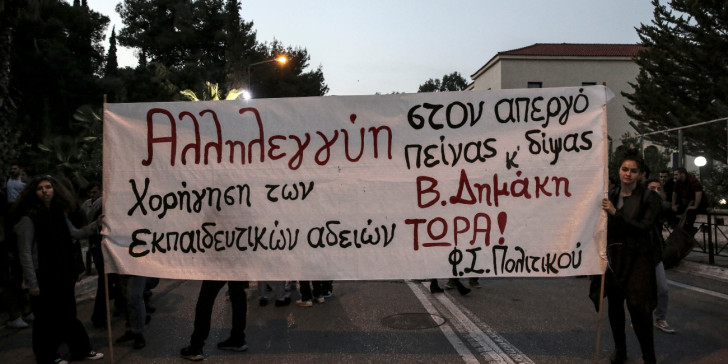 The hunger and thirst strike launched by Vasilis Dimakis, an imprisoned student at the Department of Political Science and Public Administration (PSPA), is turning more heads each day.
Political parties, humanitarian organizations and average citizens are joining the movement in defense of Vasilis Dimakis' fight for education and a life with dignity. On Monday afternoon, a protest and a march to the Ministry of Civil Protection was organized in support of Vasilis Dimakis, while in their statement, the Department of Political Science and Sociology postgraduate students and PhD candidates from the PSPA Department of the National and Kapodistrian University of Athens (UoA) note that "against the Government and the Ministry of Civil Protection, who are vengefully targeting a man, reaching the limits of his endurance and pushing him to put his life in great danger for the third time, we support and stand in solidarity with Vasilis Dimakis".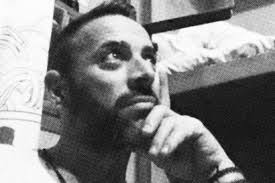 The Greek department of Amnesty International also issued a statement, noting the following:
"Amnesty International is following with great concern the development of the case of Vassilis Dimakis, who for weeks has been claiming his right to education through prison.
Vasilis Dimakis is a prisoner who has been a student at the Department of Political Science and Public Administration of the UoA since the academic year 2017-2018. He then applied for, and eventually earned, his right to a furlough for academic purposes with an ankle bracelet, so that he could pursue his studies. On 17/4/2020, he was transferred from Korydallos prison to Grevena prison, in the midst of a pandemic, resulting in the cessation of the possibility of continuing his education. After a hunger and thirst strike and extensive reactions on 30/4, his request for re-transfer to Korydallos was accepted, which was implemented on 9/5. However, according to the competent Ministry, he was placed in quarantine in a special wing in the basement of the Korydallos women's prison. Since then, according to Vasilis Dimakis' complaints, he has not been granted access to a computer and an internet connection which would allow him to continue his studies at the University. On 23 May, Vasilis Dimakis announced he was beginning a new hunger and thirst strike, demanding he be transferred to his cell in D Block of Korydallos Prison and be granted access to his courses.
Amnesty International wishes to remind that the right to education is fundamental and calls on the Greek authorities to ensure that Vasilis Dimakis has access to this right.
At the same time, there are complaints that the initial transfer of Vasilis Dimakis to Grevena is related to the concerns he expressed about the lack of measures to protect inmates from coronavirus. Amnesty International states that in no case should prisoners be punished for expressing collective demands related to the imprisonment conditions.
Amnesty International issued a statement on 9 April 2020 emphasizing the need for immediate measures to be adopted, in order to protect correction facilities given the extensive failures regarding the quality of health services, including recommending that temporary measures be taken to reduce the prison population.
Respect for the rights of all prisoners and their equal treatment mirrors the quality of legal culture and the rule of law". /ibna