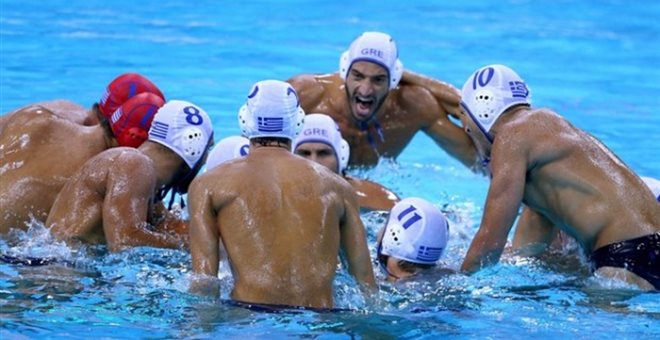 Athens, August 10, 2015/ Independent Balkan News Agency
By Spiros Sideris
The men's Greek national team of water polo won the bronze medal in the 'small' final of the World Championship, held in Kazan, beating the Italians on penalties 11-9 (7-7 regular time).
At the same time, the Greek team secured its participation to the Olympic Games in Rio de Janeiro, next summer.
The "Galanolefki", which, to reach the quarter-finals, eliminated in the shootout the Australians and was defeated in the same way by the Croats in the first semifinal, had the lead throughout the game.
They managed to earn a two-goal advantage, but the Italians always found the way to keep the difference to one goal.
Eventually, the game ended up in the "Russian roulette" with the Italians losing two penalties (one at the post and the other blocked by Flegas), while the Greek internationals struck true on all four they attempted.
The eight-minute intervals: 1-0, 2-2, 4-4, 0-1 (etc), 4-2 on penalties
Serbia World Champions
On top of the world returned after 2009 the male water polo team of Serbia, "sinking" with the amazing 11-4 Croatia in the final of world championship in Kazan!
After beating Italy easily in the semifinal of the World Cup, the Serbians took Croatia by storm with 11-4 in the final of the tournament and for the fifth time in their history became World Champions!
The first scorer for the winners was Prlainovic with three goals, two had Chuk and from one Mandic, Pietlovic, Aleksic, Jaksic, Filipovic and Mitrovic. From losers two goals skored Sukno and Obradovic and Petkovic contributed with one.
The eight-minutes intervals: 2-2, 3-0, 2-2, 4-0