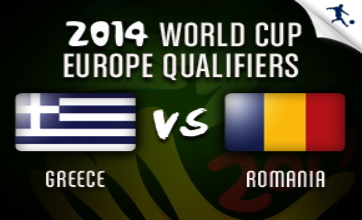 By Spiros Sideris – Athens
Two teams will battle for one spot in the 2014 World Cup as Greece take on Romania in the first match of a two-legged playoff.
Greece narrowly missed a chance to automatically qualify for Brazil during the group stage, but 25 points in 10 matches were not enough as Bosnia-Herzegovina matched them and won on a tiebreaker. Still, a perfect record against everyone else in the group secured a second-place finish.
Meanwhile, Romania had less of a chance at a group win with the Netherlands dominating the table. However, they were able to edge Hungary and Turkey with two wins in a row to grab the second spot.
Now the pair will face each other for the right to represent Europe at the World Cup. According to the latest standings, Greece are ranked 15th in the world, some way ahead of Romania in 29th place.
The climate among Greek and Romanian fans is considered as polemic, as both teams want the victory and there is certain to be a lot of excitement throughout the match. According to Greek sports media, there will be a lot of Romanians to attend the Yorgos Karaiskakis National Stadium, many of them currently living and working in Greece.
"We have to give it everything"
Romania's centre-half, Vlad Chiriches, said that his country wants to win so as to repeat a glorious entry in the World Cup finals, as it happened in 1994. It's a dream for me to go to the World Cup, so we have to give it everything," he continued.
"I know Greece are favourites because they are in a better position than us, but we hope to do our best and with a good performance I think we can win".
The tactics
Coach of Greek national team, Fernando Santos, is not going to change many things in the starting lineup, unless he holds a last minute surprise for his Romanian opponents.
Karnezis will play under the goal posts, having in front of him the defensive duo of Papastathopoulos and Siovas. Torosidis will play at the right in defense, while Holebas will at the left side. The midfield line will be consisted of Katsouranis, Tziolis, and Maniatis, while Fulham's midfielder, Yorgos Karagounis, is likely to substitute Tziolis. The attacking line will be consisted by Samaras and Salpiggides while Mitroglou will be the spearhead of the Greek attacks.
As for Romania, coach Victor Piturka cleared today that the main objective of his team is to score. He is likely to present a few surprises at the 4-2-3-1 tactic. Tatarusanu is unlikely to begin as goalkeeper, while Matel and Rat will cover the two backs, and Goian and Gardos will play as stopper.
Burceanu and PAOK FC's Lazar will cover the two defensive halves. Marika will plays as for, backed up by Nikolita, Maxim and Tanase, with Piturka wanting to nail the Greek team with sudden counter-attacks.