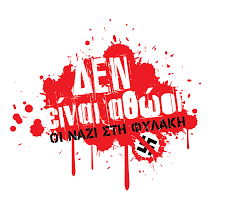 On Wednesday, October 7, at 11:00 (local time), at the Three-Member Appeals Court in Athens, Democracy, Justice and the anti-fascist movement in Greece will experience their most historic day.
The much-discussed trial of the far-right fascist Golden Dawn party will end after five and a half years with the announcement of the decision of the Court of Justice, for the 68 accused.
The case file includes the murder of 34-year-old anti-fascist Pavlos Fyssas by the assault battalion in the area of ​​Nice on September 18, 2013 as well as the attacks against Egyptian fishermen in 2012 and against members of the KKE PAME trade union in 2013.
The decision comes exactly seven years after the murder of Pavlos Fyssas and five and a half years since the beginning of the trial. During this period, 453 hearings were held, 216 witnesses were examined, 438 documents were read and all defendants testified.
A total of 68 persons are being accused, 65 of whom, including the leader of Golden Dawn, Nikos Michaloliakos, and the entire former leadership of the organization, including former MPs, are being accused – among other crimes – for the crime of participating in a criminal organization. Both Michaiolakos, a well-known supporter of Hitler and Nazi Germany, as well as twenty other persons are being accused of being at the helm of the criminal organization which committed numerous crimes.
As has been announced outside the Court of Appeals since this morning, organizations of the anti-fascist movement, collectives, trade unions, organizations and parties will be present to call for a strong condemnation of the Golden Dawn criminal organization. The leaders of the political parties, SYRIZA-Progressive Alliance Alexis Tsipras, the President of KINAL, Fofi Gennimata, the Secretary of the KKE, Dimitris Koutsoumbas, the Secretary of Mera25, Yanis Varoufakis, and the opposition group New Democracy, will all be present.
The mobilizations will take place under draconian security measures, with the Greek Police deploying almost 2,000 men in the wider area of ​​the Court of Appeals to maintain public order, while drones and a helicopter of the Hellenic Police will be used.
The announcement of the decision has mobilized the majority of Greek society demanding the condemnation of Golden Dawn for the crimes it has committed./ibna