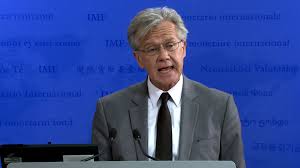 By Lefteris Yallouros – Athens
The Director of the International Monetary Fund's Communications Department, Gerry Rice(photo), revealed Thursday that the troika delegation will return to Athens as soon as the Greek government presents a full set of policy proposals that could serve as the basis for discussions.
"Greece has made important progress (…) but as recent events have shown there's still a way to go before it can rely entirely on markets for financing," Gerry Rice said.
As the yield on Greek 10-year debt soared above 8 pct again on Thursday, the IMF spokesman said the Fund was ready to support any changes in its relationship with Greece, adding that it would be better if Athens continues at least with some kind of precautionary support program.
In relation to the country's reform effort, Rice said "it is important to press ahead with the structural reforms (…) to strengthen in particular the tax administration where progress we feel continues to lag."
Greece has been preparing for the return of troika officials to Athens to conclude a review of progress made in the adjustment program and structural reforms. Prime Minister Antonis Samaras and deputy premier Evangelos Venizelos met on Thursday to discuss issues relating to the troika review, with talks focusing primarily on reforms in the public sector.
Meanwhile, the German government on Thursday denied reports that Finance Minister Wolfgang Schaeuble and counterpart Gikas Hardouvelis had reached an agreement to further support Greece after it exits its bailout program.
"We deny media reports that Germany and Greece agreed yesterday about future aid for Greece once its ongoing bailout program is over," a spokesman for Schaeuble said.
It is now generally acknowledged by the Greek administration that much of the country's future with regards to the economy will be determined by how the final troika review develops. Should auditors say that Greece has satisfactorily delivered on obligations outlined in the rescue deal, the country's government will be enabled to proceed with determining future economic policy as well as a detailed plan for the day after the memorandum of understanding with international creditors.