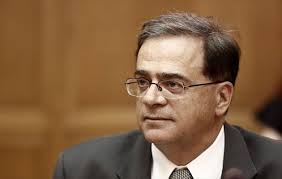 By Lefteris Yallouros – Athens
Greek Finance Minister Gikas Hardouvelis and Bank of Greece Governor Yannis Stournaras head a delegation that will represent the country at the International Monetary Fund and World Bank meetings in Washington on the sidelines of which crucial talks on the future of the Greek economy will be held.
The Greek side will hold talks with the managing director of the International Monetary Fund, Christine Lagarde on Sunday which are expected to focus on the country's plan to exit its bailout deal and seek funding from financial markets. The options available to Greece on debt relief will also be discussed.
In an interview with Bloomberg Prime Minister Antonis Samaras "we feel fully comfortable" of covering future funding needs alone adding that "we want to do it properly," and that Athens is open to some form of monitoring from its current creditors.
As a bailout deal with European partners runs out this year, the IMF still has some 15 billion euros to be disbursed to Greece through to mid 2016. The Greek government, however, is set on exiting the bailout deal early and seek funding from bond markets. The idea makes political sense as the government will be free to make it's own decisions without consulting the troika and having to go through strict audits on a regular basis. However, Greece will not be left without monitoring as EU partners and especially German Chancellor Angela Merkel is determined to see the country stay firmly on the structural reform track.
Furthermore, Greece cannot be sure that bond markets will be as favorable as they are now if progress in the economy does not continue and growth rates are not reached and sustained in future. Nor does anyone know how political risks will factor in to Greek bond interest rates in future, especially as the possibility of left-wing SYRIZA coming to power seems plausible.
Speaking at an annual Fund event in Washington, Chrisitne Lagarde admitted Greece was keen on an early exit but argued that "in order to deliver a continuous satisfactory outcome, the country would be in a better position if it had precautionary support". "We are talking about evolution in the relationship. But we believe that the relationship can still be extremely helpful for the country to move on" she added.