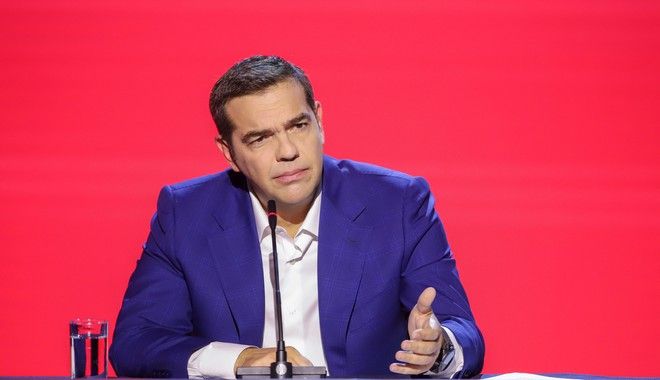 The President of SYRIZA-Progressive Alliance launched a full-frontal attack from the podium of the Helexpo Forum to the Government of Kyriakos Mitsotakis for its policies, while presenting his proposals on all the issues that concern Greece and the Greeks.
Alexis Tsipras stressed that the pandemic showed the limits of "a model that condemned and devalued state intervention and praised private initiative".
"In a world looking for ways to move forward, Greece has a government that condemns it to lag behind" and "its only plan is to attack workers and destroy small and medium-sized enterprises", he said.
The president of SYRIZA made it clear from Thessaloniki that the neo-liberal recipe of restructuring at the expense of society, labor, the welfare state and ultimately democracy is not a one-way street. The pandemic must not become an opportunity to implement the most extreme neoliberal ideologies.
Alexis Tsipras said he was ready to rule "yesterday, not tomorrow", while accused the government of a lack of strategy and stressed that it would be irresponsible of him to call for elections in the midst of a pandemic.
At the same time, the President of SYRIZA-Progressive Alliance presented a package of 11 measures that are immediately feasible, costing 11 billion euro.
"Clearly there was a violation of sovereign rights", Alexis Tsipras said when asked about the Oruc Reis and its course on the Greek continental shelf. "I believe that the Greek government must demand sanctions at the Summit", he said, while reiterating that Greece should never put its sovereign rights on the negotiations table.
Regarding the EU stance, he said that the crucial thing is to see that Turkey is not only threatening Greece, so a good strategy would be that of "the carrot and the whip".
"If it is true that the resumption of exploratory talks with Turkey is imminent, I welcome it, it is a positive step. We firmly believe that a serious effort must be made to proceed with the exploratory talks for the continental shelf and the EEZ and if they do not leads to anything to go the international court", noting that "the government owes a formal briefing"./ibna