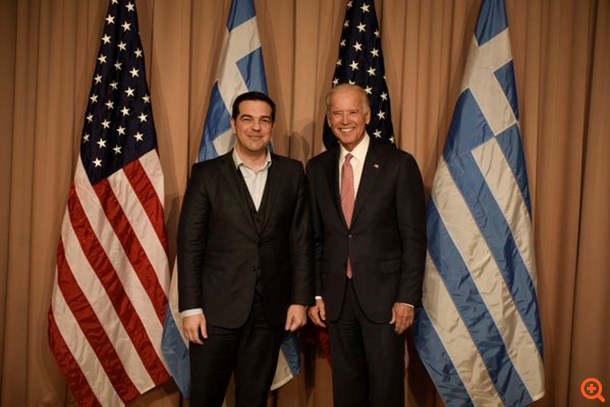 In his congratulatory letter to the 46th President of the United States, the former Prime Minister and President of the SYRIZA-Progressive Alliance underlines the new era marked by the election of Joe Biden, both for the United States and for the international community.
Alexis Tsipras emphasized the unique opportunity presented for the strengthening of multilateral diplomacy and international organizations, especially in the field of climate change and arms control, the protection of international law and the strengthening of US-EU relations on a balanced basis.
At a difficult time for the Eastern Mediterranean region, Alexis Tsipras points out that Joe Biden's friendship, experience and many years of support in Greek-American relations can contribute to stability and peace in the region, but also to a just and lasting solution to the Cyprus issue, on the basis of the UN Resolutions.
The SYRIZA chief notes in his letter the support of the Obama-Biden administration to the Greek people during the difficult years of the 2015-2016 economic crisis and the efforts to overcome austerity policies.
At the same time, he quoted excerpts from former US President Barack Obama's speech from his visit to Athens: "Because our democracies are participatory, we are able to welcome people and refugees in need in our countries. The Greek people's generosity towards refugees reaching your shores has inspired the world".
Alexis Tsipras also underlines Joe Biden's support for the Prespa agreement, as it was expressed at the meeting they had in February 2019.
Finally, the president of SYRIZA-Progressive Alliance made special reference to the "Mandate for Action" in a number of critical areas, which Joe Biden said was given to him by the American people. As Alexis Tsipras notes in his letter, the US elections highlighted the global need for progressive leaderships that will provide progressive solutions to modern challenges: to support public health in the face of the pandemic, to tackle climate change, the fight against racism, the promotion of the rule of law, social justice and gender rights. /ibna