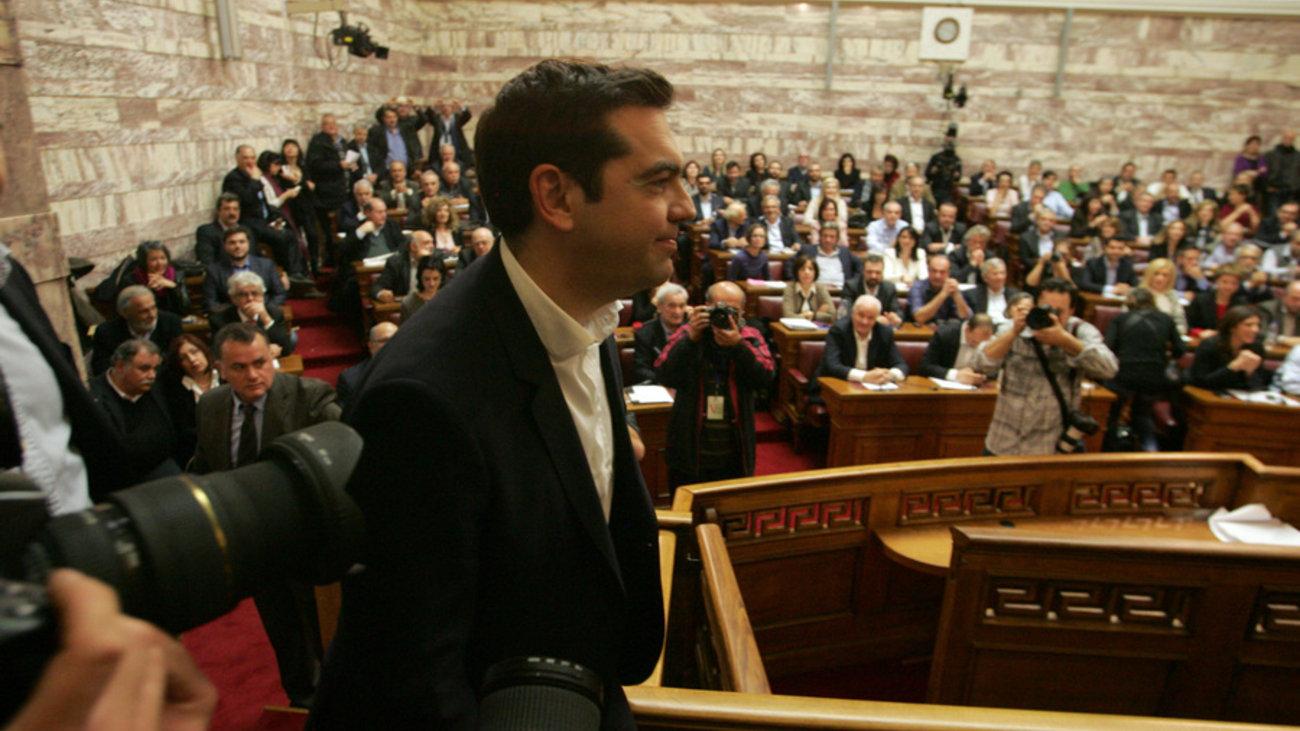 Alexis Tsipras, taking the floor at the meeting of the SYRIZA Parliamentary Group, once again called for the convening of a council of political leaders in order to form a national refugee management strategy. At the joint meeting of the MPs and the political council of the party, the main opposition leader fired shots against Kyriakos Mitsotakis: "Instead of pretending to be the Senior General of Evros, he should devise a national plan to depressurize the islands via transports to regions and municipalities in the mainland" .
In this context, he called on him to clash with the mayors and district leaders who refuse to accommodate asylum seekers in their areas. He also accused the Government of accepting a "tap on the shoulder" by the European Union with the 700,000 euro-funding, turning Greece into a "souls prison".
He described Turkish President Recep Tayyip Erdogan as "cynical and aggressive", "who's being a player in Syria, the Mediterranean, the Aegean, Cyprus, Libya", while "we have a weak and cowardly Europe" on the other side, which "turns the other way, turns a blind eye".
"Kyriakos Mitsotakis has made a gift to the EU", he said, stressing that while Turkey grossly violates the joint declaration and threatens new flows to Europe, Athens does not seek sanctions or a conviction against Ankara. In this context, he reiterated the need for an Extraordinary Summit to decide on sanctions and a resettlement program from Greece and Turkey to Europe.
Threats by extremist groups and German neo-Nazis in Evros
Following statements by the Greek Government in support of Victor Orban and Austria, Alexis Tsipras accused Kyriakos Mitsotakis of pursuing a "nationally dangerous" policy: "He goes around making deliveries for his conservative and reactionary friends in Europe at the expense of Greece". At the same time, photos showing German and Swedish neo-Nazis holding flags in Evros are becoming viral on the internet, while more and more complaints and reports are filed regarding self-appointed groups carrying weapons and even paramilitary movements. In fact, the editor of the newspaper "Opinion of Evros" called for support from the progressive citizens, asking that the journalists report these incidents.
"We are resolutely opposed to attempts to direct portions of the population towards fascism through a toxic war propaganda, the glorification of violence, by inviting paramilitary groups to engage in witch hunting", Alexis Tsipras underlined, adding that it was the refugees framed as "intruders", the NGOs, the journalists and the progressive citizens that ended up being targeted.
At the same time, the Forensic Architecture Research Center published a study that came after cross-checking data from eyewitnesses' mobile devices, which confirms the killing of Syrian refugee Mohamad Al Arab, 22, from shots fired from the Greek side of the border. The incident took place on Monday, with a government spokesman denying it back then and speaking of "Fake news". /ibna