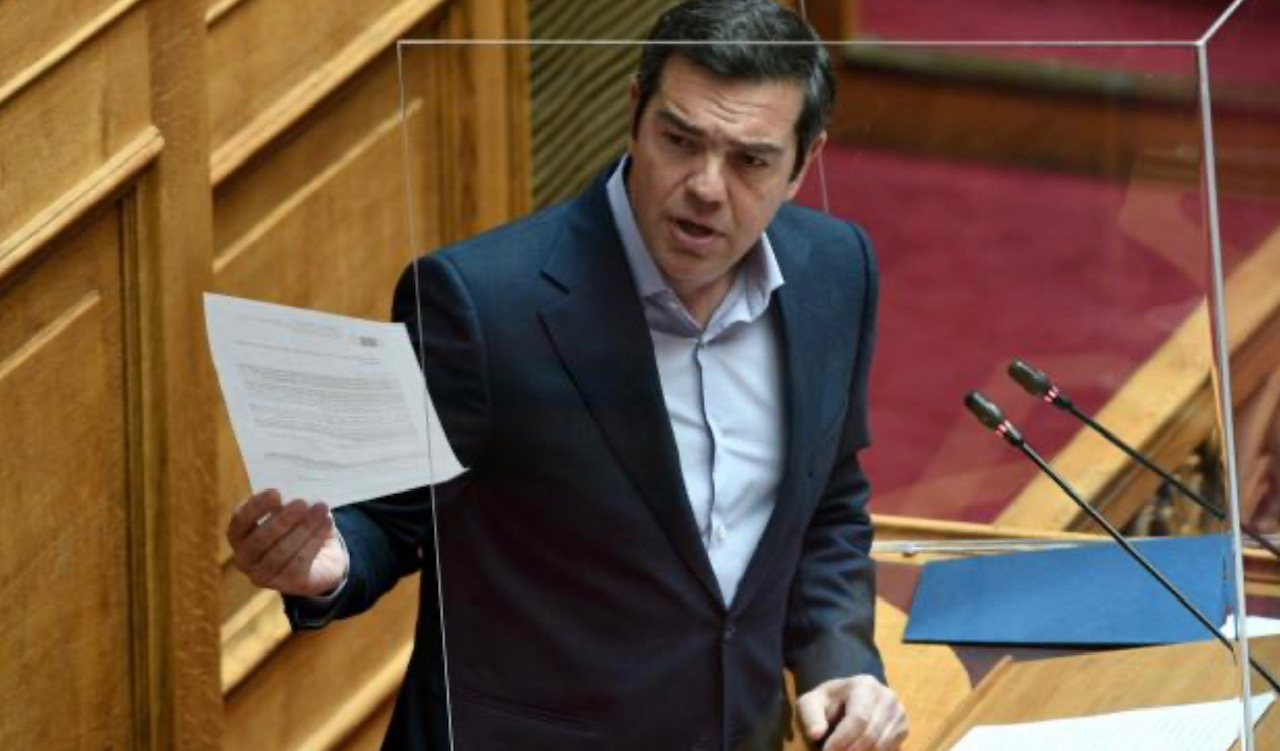 The president of SYRIZA launched a fierce attack on the government for the fiasco that ended up being the distance learning program designed to financially support the scientific community at the initiative of the Ministry of Labor, amidst the crisis caused by coronavirus.
Alexis Tsipras went after Kyriakos Mitsotakis, who, as he said, avoided taking the floor at Parliament to give answers but also dismissing the Minister of Labor. "There is only one way for the answer to be convincing. By removing Mr. Vroutsis from the ministerial post. Anything else will be proof of complicity", said Alexis Tsipras.
Addressing the government, the president of SYRIZA stressed that the administration was in for a real surprise if it though "that the almost complete absence of criticism by the big media will operate as an effective shield of protection. This post-journalistic tendency to silence almost all voices of criticism was not enough to cover up a big-time scandal involving the service of interests for friendly businesses with state funds and the humiliation of that social group on the name of which Mr. Mitsotakis has been building his rhetoric as main opposition all these years.
Continuing, Alexis Tsipras wondered who is responsible for this big scheme that was about to go down, and why the prime minister refused to provide any answers today. "What exactly did Mr. Mitsotakis take back? What was it exactly that he canceled? Who is responsible for this big scheme? Because he refused to show his face today and answer the question I asked him on Tuesday morning, and for 24 hours he kept ordering his minister and his executives to parade in the media and to falsely defend the usefulness of these programs", he stated and added: "Why didn't Mr. Mitsotakis react?"
The President of SYRIZA also stressed that an additional 90 million euros were spent by the State Fund for no reason, since the specific European resources can be used for direct, immediate support of the self-employed without the need for any training to be arranged in the middle.
"Although Mr. Mitsotakis might have decided to skip Parliament today, nonetheless we will not let it go. At some point he has to give answers. Especially if Mr. Vroutsis, who had a lot of things to say apparently, does not have the courage to answer the question I ask him immediately; was the idea and the planning his or was it a collaboration with the Maximos Mansion HQs?", Alexis Tsipras wondered.
Concluding, the leader of the Main Opposition noted that "if he does not answer, that will obviously mean that this was a collab, and it will be up to Mr. Mitsotakis to give answers. And there is only one way for the answer to be convincing: With the expulsion of Mr. Vroutsis from the ministerial post. Anything else will be proof of complicity". /ibna