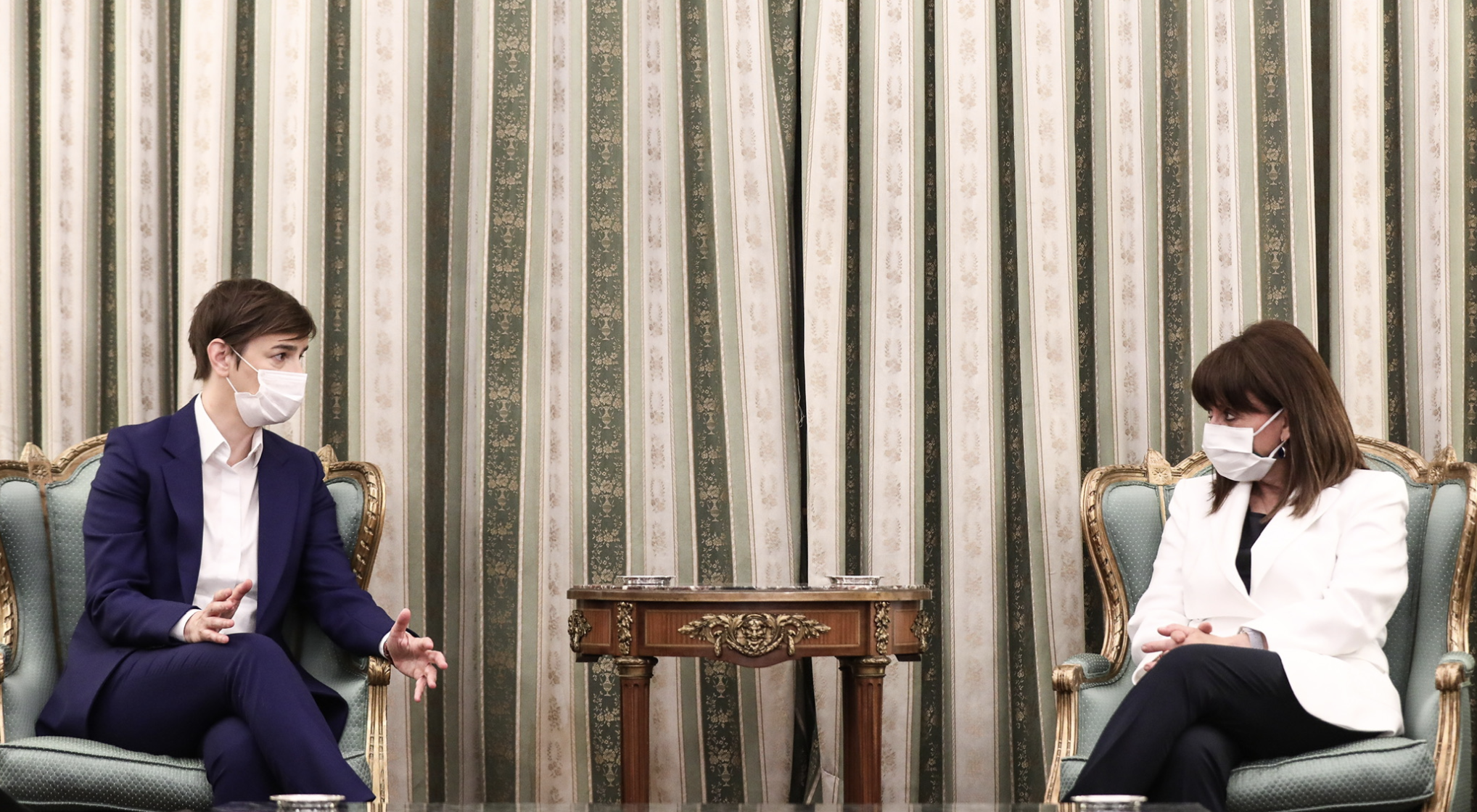 The President of the Hellenic Republic, Ekaterini Sakellaropoulou, had a series of contacts with leaders of the Western Balkans who visited Greece to participate in the 6th Delphi Economic Forum.
First, the President of the Hellenic Republic met with the Prime Minister of Montenegro, Zdravko Krivokapić.
During the meeting, they exchanged views on a number of issues of mutual interest, such as tackling the pandemic and efforts to revive economies in the post-COVID era, as well as on the possibilities of strengthening bilateral relations.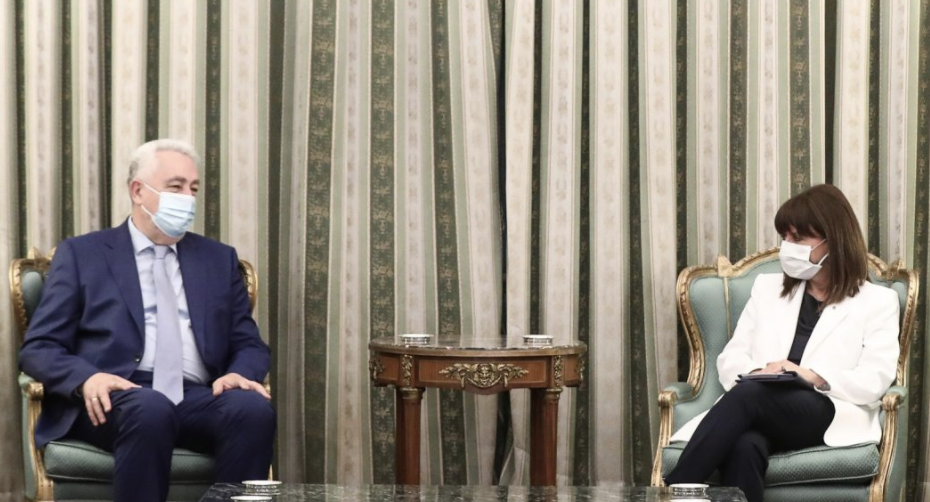 Ekaterini Sakellaropoulou pointed out to the Prime Minister of Montenegro that Greece has been firmly oriented, since the Thessaloniki Summit of 2003, to support the European course of the Western Balkan countries. He stressed that it is the only option that can ensure political stability, economic development and strong democratic institutions in the countries of the region. However, in order for them to join the EU, it is necessary to comply with the criteria that apply to all candidate countries.
Zdravko Krivokapić thanked the Greek President for Greece 's support for Montenegro' s European course and reiterated his government 's readiness to work to expand bilateral relations.
Afterwards, the President of the Republic Ekaterini Sakellaropoulou met with the Prime Minister of Serbia Ana Brnabić.
The meeting reaffirmed the excellent level of relations between the two countries. They discussed ways to strengthen bilateral cooperation in the economic and trade sector, but also in tourism, in combination with the gradual opening of the economy and society and the way out of the health crisis.
The President stressed the commitment of Greece to the European perspective of Serbia and, in general, the countries of the Western Balkans. She noted that Greece will continue to support Serbia's efforts in this direction.
Ana Brnabić underlined the strategic cooperation that exists between the two countries and thanked the Greek President for supporting Serbia's European course. She also stressed that the Serbian government will make every effort to deepen bilateral relations and seize the opportunities for economic co-operation that will emerge after the end of the pandemic.
Finally, the President of the Hellenic Republic met with the Chairman of the Presidency of Bosnia and Herzegovina Milorad Dodik.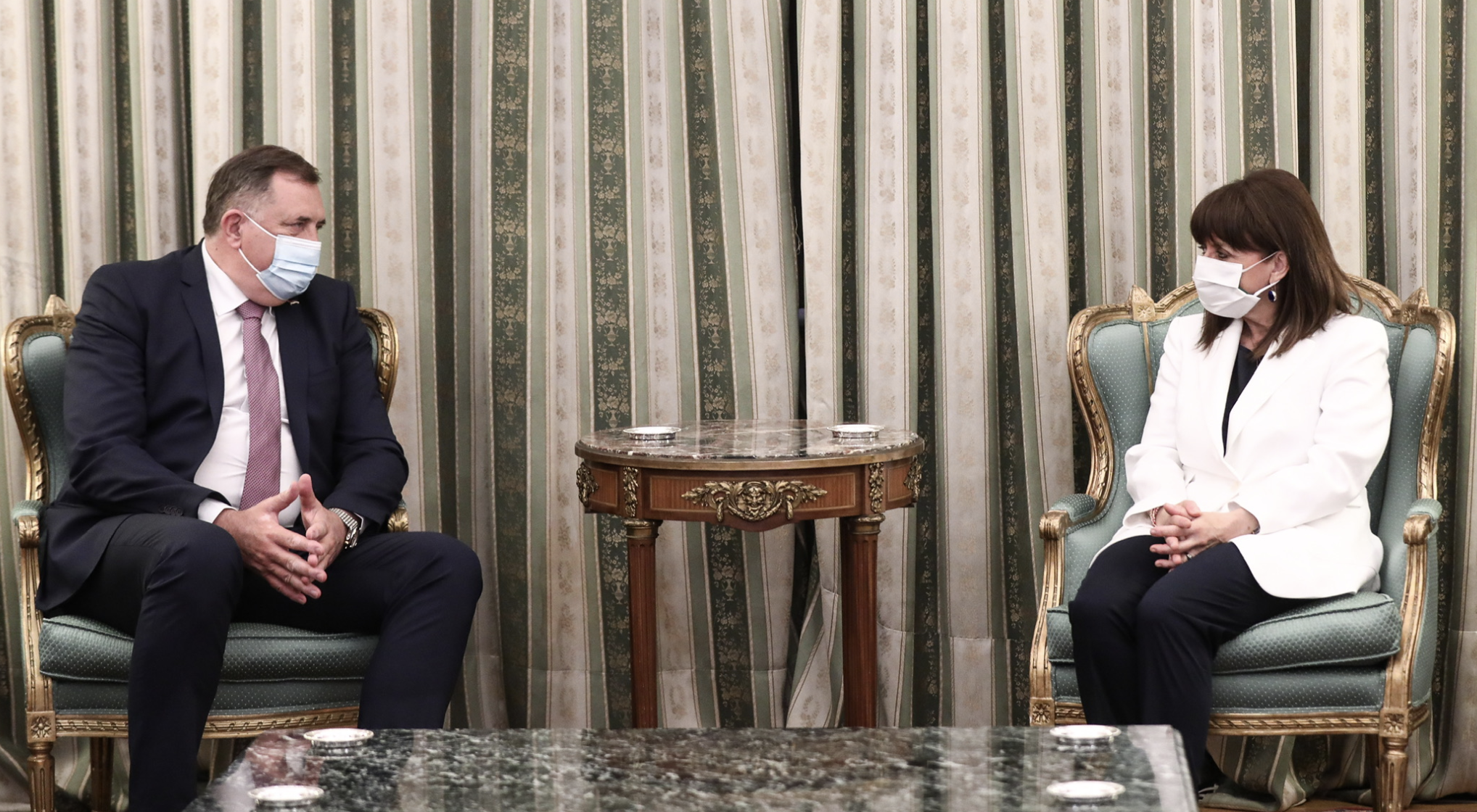 The two leaders discussed the effects of the pandemic and expressed hope for a speedy return to normalcy, which will also allow for economic recovery. Both Ekaterini Sakellaropoulou and Milorad Dodik underlined the excellent bilateral relations, while pointing out that there are many possibilities for their further strengthening, especially in the economic and commercial level.
The President of the Republic stressed that Greece remains firmly committed to promoting the course of accession of the Western Balkan states to the European Union. "We support the efforts of Bosnia and Herzegovina in this direction," he said, noting that the reforms needed may not always be easy, but they are necessary.
Milorad Dodik expressed the hope that the European course of his country will accelerate and thanked Greece for its firm and steady support./ibna