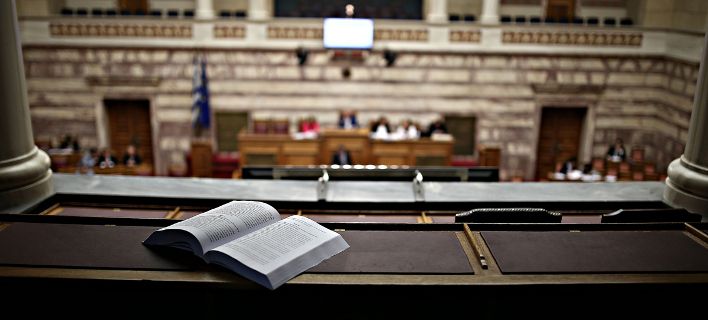 The completion of the second phase of the constitutional review that takes place today, concludes one of the major priorities that the Tsipras government has set itself. In a context of tensions and controversies, especially about the way in which the President of the Republic will be elected, the religious neutrality of the State and the Law on the Ministers' Responsibility, the MPs adopted the articles to be reviewed in the next parliamentary session, which has the final say. The final results of the vote will be announced late tonight.
Tsipras denounces Mitsotakis for using machinations concerning the Constitution
With the Greek Prime Minister speaking of an opportunity of important progressive institutional incisions that will leave the footprint of the left and Kyriakos Mitsotakis speaking of a missed opportunity, everything will be judged by the composition of the next government. Besides, the scope and content of the revised articles will be decided by the next House.
Indeed, Alexis Tsipras criticized the New Democracy's machinations for the ministerial bribery offense so that it would not be possible to pass by a simple majority in the next House, pointing out implicitly that this is aimed at writing off offenses committed by officials of the main opposition in the past.
At the same time, he spoke of "political opportunism" regarding the proposal of the ND, according to which the President of the Republic can be elected by a simple majority of 151 MPs after two failed attempts to gather 180. "You will not win the next election", he said referring to Kyriakos Mitsotakis.
Syriza's suggestions are disastrous, Mitsotakis stresses
For his part, the leader of the ND described as "disastrous" SYRIZA's suggestions for the Constitutional Review, such as the introduction of a proportional representation and the dissociation of the election of the President of the Republic from the dissolution of the Parliament. Moreover, he accused the government of not agreeing to the revision of Article 16 that would pave the way for the establishment of non-state universities.
Primary home protection unlocks the EUR 1 billion disbursement
At the same time, in Athens, the interest is focused on the process of finalizing the new framework for the protection of primary homes, which is also a prerequisite for "unblocking" the disbursement of EUR 1 billion from the returns on the profits of Greek bonds. Milestone dates for the Greek government are March 25 and the Euroworking Group meeting, as well as the Eurogroup meeting on April 5, but also the informal session of the 19 in Bucharest at the end of March./ibna