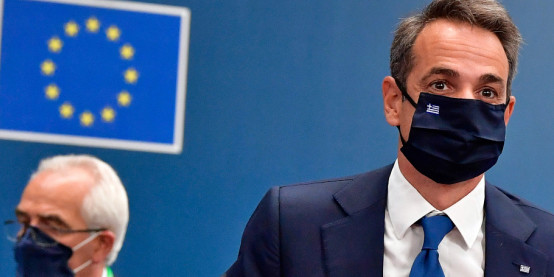 Greek Prime Minister Kyriakos Mitsotakis has been in Brussels since Thursday to attend the EU Summit.
According to government sources in Brussels, the Greek Prime Minister asked his counterparts for clear options for tougher sanctions against Turkey at the start of the Summit.
The same competent sources added that Kyriakos Mitsotakis stressed that it should not possible for Turkey to violate the sovereign rights of two Member States and have no strong reaction. In addition, he raised the issue of the conversion of Hagia Sophia into a mosque, emphasizing that it is indicative of the way in which it deals with international agreements, mutual respect and interfaith dialogue.
Finally, the Greek Prime Minister requested that the EU-Turkey relationship be discussed in detail at the next European Council.
In a post, the President of the Republic of Cyprus, Nicos Anastasiades, noted that "whenever Turkey violates international law and undermines the vital interests of the EU and its Member States, the Union must respond collectively and decisively with specific conditions"./ibna