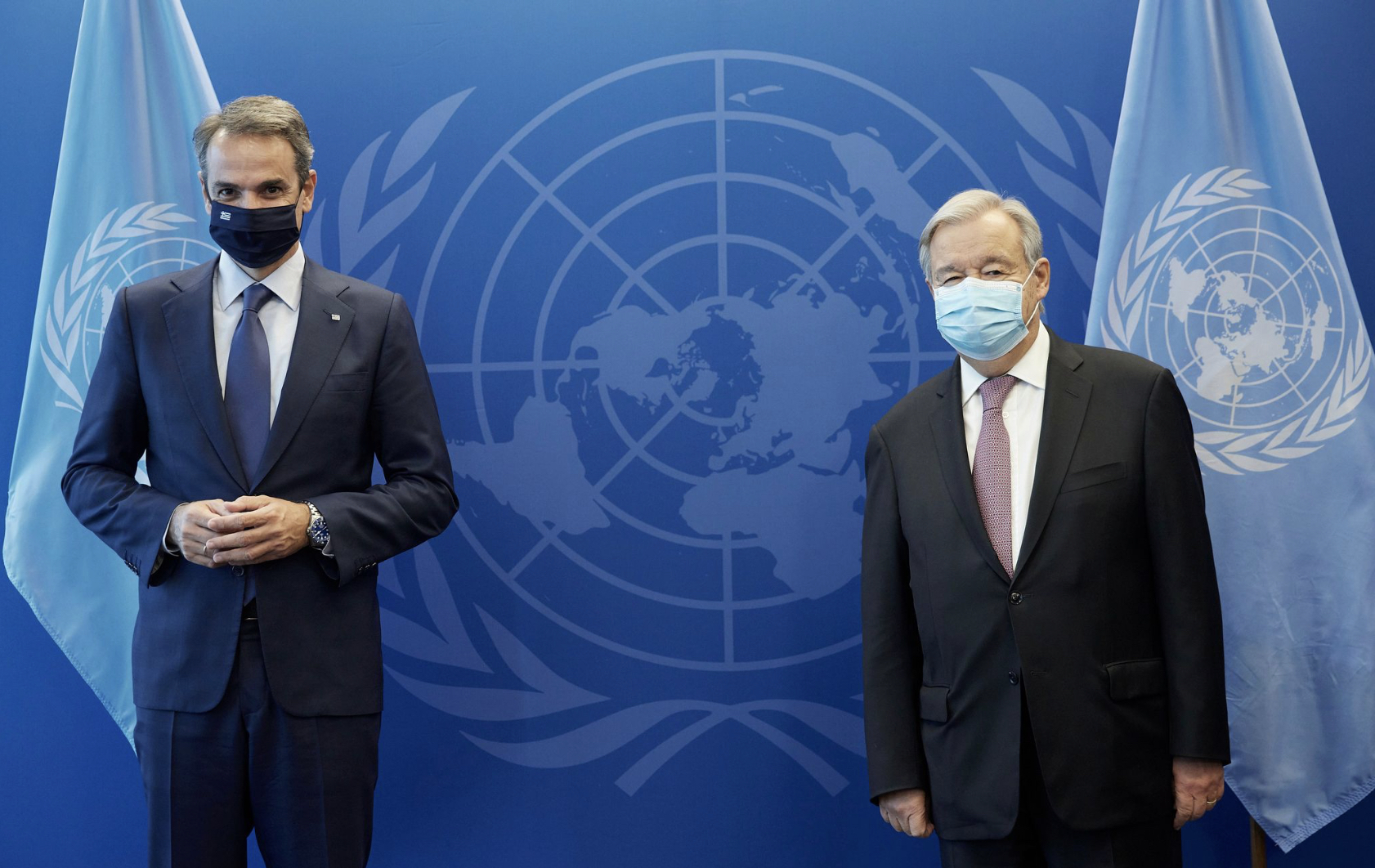 Greek Prime Minister Kyriakos Mitsotakis met on Thursday with the United Nations Secretary-General, António Guterres, at the Organization's headquarters in New York.
During the meeting, the Cyprus problem, the situation in the Eastern Mediterranean and the initiatives undertaken by Greece to shift towards a green economy, which are in line with the UN's environmental and climate protection goals, were discussed.
The Prime Minister noted that Greece is a firm supporter of peace, stability and multilateral cooperation in the Eastern Mediterranean, on the basis of international law, the UN Convention on the Law of the Sea (UNCLOS) and the principles of good neighbourliness.
It highlighted the Turkish violation of our country's sovereign rights, in violation of the UN Charter and UNCLOS.
Kyriakos Mitsotakis stressed that the only framework for negotiating a solution to the Cyprus problem is clearly defined by the binding UN Security Council resolutions, which provide for a solution of a bizonal, bicommunal federation with one sovereignty, one international personality and one citizenship.
He stressed that proposals that move in a different direction cannot be accepted as a basis for discussion and are therefore rejected.
Developments in Libya were also discussed during the meeting. Mitsotakis expressed our country's support for the efforts of the United Nations to hold free elections within the set timeframe, as well as the withdrawal of all foreign forces from Libya.
On the issue of migration, he noted that Greece has borne a heavy burden and made special reference to the hospitality provided by our country to those entitled to international protection, especially to vulnerable groups such as unaccompanied minors.
The Prime Minister expressed Greece's support for the efforts of the Secretary-General to address the climate crisis, noting that environmental protection is a central pillar of the Greek government's policy./ibna