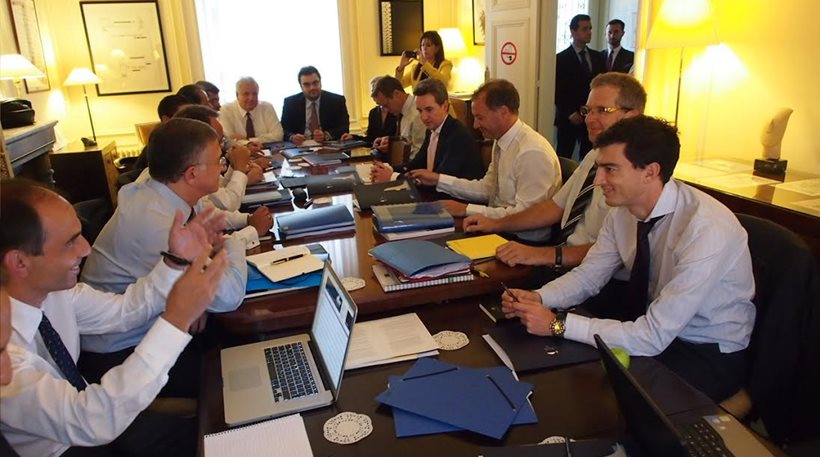 By Lefteris Yallouros – Athens
The Greek government is planning to issue a seven-year bond before the end of the year, a senior government official revealed on Wednesday. Athens is also planning to swap some of its short term three-month and six-month Treasury bills with 12, 18 or 24-month notes by the end of the year, the official also told Reuters.
The news comes as talks between the Greek government and troika inspectors take place in Paris. Meetings held in the French capital are largely preparatory as the troika's sixth evaluation of the Greek economy is set to begin in Athens, in the last ten days of September.
The troika officials met on Wednesday with Finance minister Gikas Hardouvelis, Development and Competitiveness Minister Nikos Dendias, Justice Minister Charalambos Athanasiou, Labor Minister Yiannis Vroutsis and Administrative Reforms Minister Kyriakos Mitsotakis. Discussions ranged from an ongoing civil service overhaul to pension reform.
The Paris talks are the first meeting outside of Athens between the Greek government and the troika. The change in venue has so far proved successful as talks have started off well and, furthermore, coverage of the negotiations have not been disruptive to the market as the Athens Stock Exchange closed on a high on Wednesday.
"The Greek side has stressed the need for a tangible recognition of the sacrifices made by the Greek people (…) The effort has been acknowledged by our partners" government spokeswoman Sofia Voultepsi said on Wednesday.
On Tuesday, Gikas Hardouvelis told reporters that the Greek reform effort was "within the deadlines." "We want to show that the program is on target, both on the fiscal and the structural level," he added.
Furthermore, Prime Minister Antonis Samaras hopes to be able to announce tax breaks at the Thessaloniki International Fair (TIF) on Saturday should talks with Greece's lenders go smoothly in Paris. A reduction in a special austerity-era solidarity tax on income, lower tax rates on home heating oil, and lower value-added taxes is being mulled by the government.