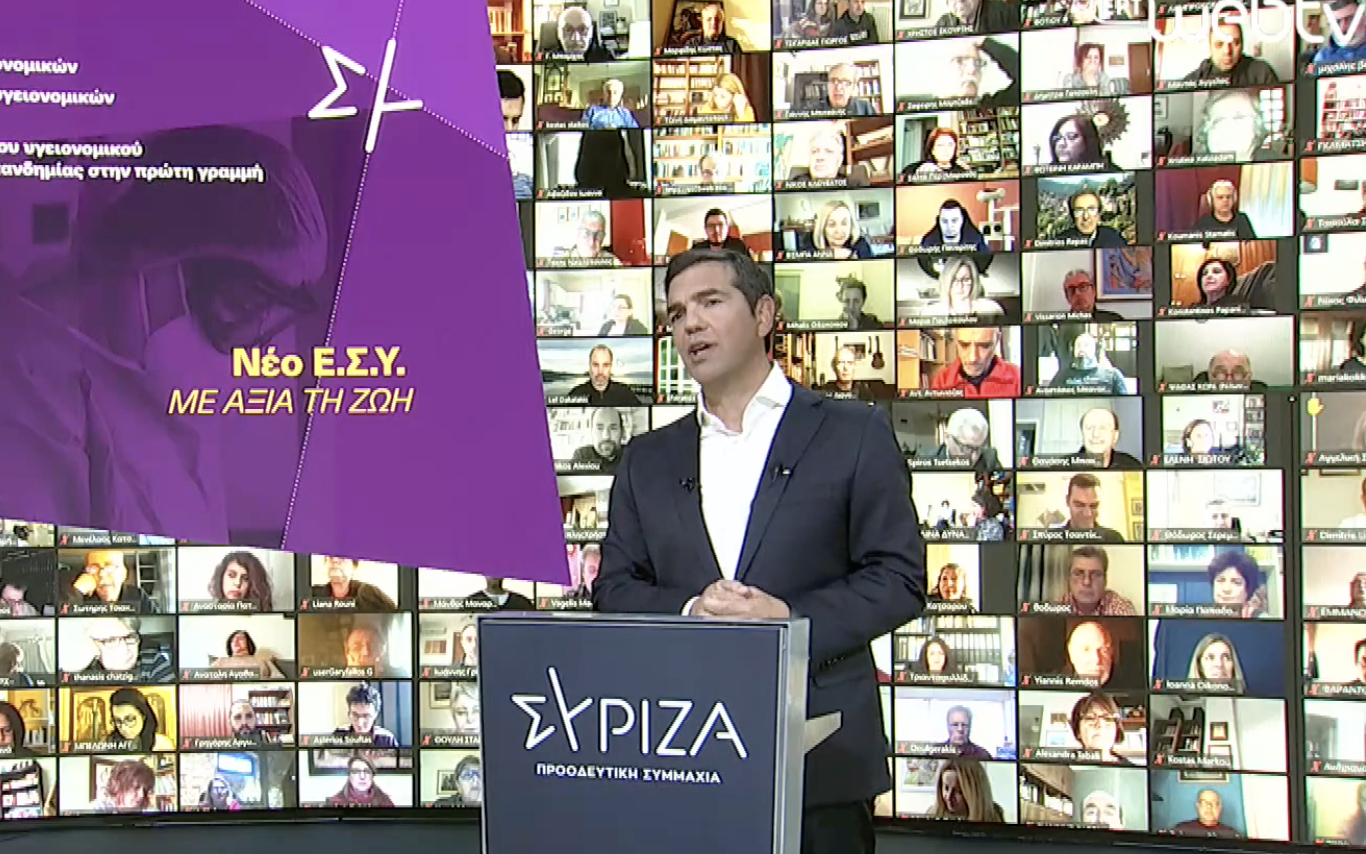 Alexis Tsipras presented the SYRIZA-Progressive Alliance program for the new National Health System (NHS). The presentation of the program restores the Main Opposition's political pulse after a period of inaction.
"It's not just a programmatic commitment. It is a national mandate. It is our top political priority for the coming years," the SYRIZA Progressive Alliance chief stressed during the presentation of the" Philodimos" program.
Alexis Tsipras went on to add about the program that it is "A new NHS that values life, which will inspire confidence, reliability and prestige. That will respect every citizen's priorities and boundaries. That will treat each patient based on their needs and not their wallet."
At the virtual presentation of the "Philodimos" program, he stressed that "this is a small revolution" that will include an increase in spending to reach a four-year European average of 7% of GDP starting with an injection from year one amounting to 3 billion euros, with a simultaneous redistribution of expenditure under a new resource utilization model.
Depicting the doomy situation of public health due to the pandemic, he noted that "one year later, we are once again at ground zero. Right now as we speak, hospitals in Attica, despite the grand proclamations about their reinforcement, are 'in the red zone' for the 3rd time in the last year. And let us not forget that we are in the fifth consecutive month of lockdown and Attica is still facing the danger of experiencing what Thessaloniki went through last November. The responsibilities burdening the government are obvious."
He also noted that since the eruption of the crisis until today, more than 6,500 of our fellow citizens have lost their lives. "Had we had an effective and reliable primary care system, many of them would have arrived at the hospitals on time and the progression of their health could have been different. Had we had enough doctors and nurses and a sufficient number of beds in the ICU, our hospitals would not need to treat almost exclusively COVID-19 patients and select patients to undergo surgery," he added.
Alexis Tsipras argued that although the pandemic highlighted the need for a public health system, "I am nonetheless sure that very soon, perhaps on the very first day of the post-pandemic era, some will easily forget all that reality itself has revealed to us," he stressed.
He went on to clarify that the position of SYRIZA Progressive Alliance is that "Health is the highest public good".
Finally, he underlined that the "Philodimos" program "is not just a programmatic commitment. It is a national mandate. It is our top political priority for the next years. 40 years after the first NHS and after successive governments -and especially the choices of the memoranda- weakened it, it is time to redesign it and rebuild it," Alexis Tsipras concluded. /ibna