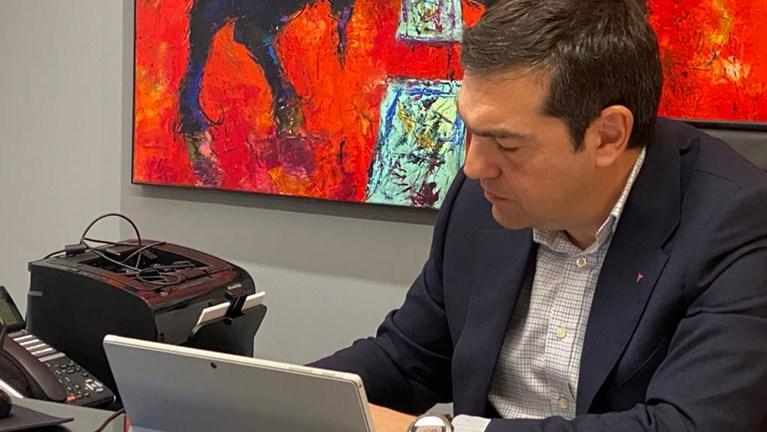 In the context of SYRIZA's dialogue with the progressive forces of Europe, which has even more gravity now, due to the effects of the pandemic, and following the teleconference between SYRIZA president Alexis Tsipras and German Greens Co-Chair Annalena Baerbock, televised discussions were held between the two parties.
The teleconferences focused on European policy issues and climate and environmental policies.
On behalf of SYRIZA, the teleconferences were attended by the Member of Parliament and Head of Environment and Energy Socrates Famellos, the Head of the Political Secretariat of SYRIZA for the Department of International and European Affairs, Rania Svigou, the Climate Change, Environment and Energy shadow minister, Rena Dourou, and SYRIZA-Progressive Alliance MEP, Petros Kokkalis, while Pausanias Papageorgiou represented the office of the president of SYRIZA.
The teleconferences were attended on the part of the Greens, by co-chair of the European Greens, MEP Ska Keller, the Vice President of the German Greens, responsible for European and International Affairs, Jamila Schaefer, the Greens' Head of Parliamentary Group, Responsible for European Affairs, MP Franziska Brantner, the Member of Parliament and spokeswoman for climate policy, Lisa Badum, and the MEPs Jutta Paulus and Michael Bloss.
On both sides, the need for common, progressive responses to the new challenges Europe is faced with was identified. In particular, the necessary European tools for economic restructuring, the importance of the Eurobond and the Green Deal, the Green and Digital Agenda, the strengthening of policies to tackle the climate crisis, energy security, the promotion of RES, the protection of biodiversity, the instrumentalization of refugees and the escalation of Turkish aggression in the Aegean and the Eastern Mediterranean, developments in Libya and the worrying developments for the rule of law in Hungary.
Special reference was made to the anti-environmental bill of the ND government that is currently being discussed in the Greek parliament, with restrictions on the participation of MPs, while there are restrictions on economic and social functions due to the pandemic, which creates serious deficits in environmental licensing and control, as well as the nature protection and biodiversity policies.
Contacts between the two parties will continue in the near future, with the aim of promoting joint initiatives at a European level./ibna