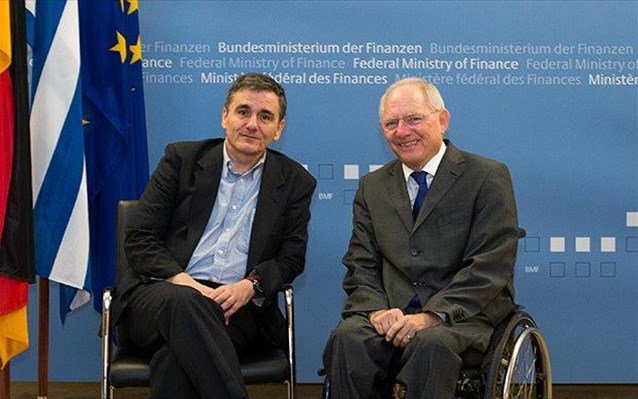 Athens, January 14, 2016/ Independent Balkan News Agency
By Zacharias Petrou
Greek Finance Minister Euclid Tsakalotos continued his tour of Eurozone capitals on Wednesday with a meeting with German counterpart Wolfgang Schaeuble after meeting with Dutch Finance Minister Jeroen Dijsselbloem on Tuesday ahead of a Eurogroup meeting to be held Thursday.
Tsakalotos reportedly asked the German Finance Minister for breathing space that will allow Greece to avoid social and political instability upon the arrival of creditors in Athens to review implementation of the bailout program.
The meeting between the two ministers lasted just over one hour. The ministers did not speak to the press afterwards. The trip to Berlin wraps up Euclid Tsakalotos's tour of Eurozone capitals.
Athens is attempting to convince European partners that the Greek government has made great efforts to implement the MoU signed with creditors and that it now needed leniency to avoid political turbulence to ruin the work that has been done.
According to government sources, during the meeting Euclid Tsakalotos held with Dutch counterpart J. Dijsselbloem on Tuesday, the Eurogroup chief made clear that his statement according to which the first evaluation of the Greek program would take months included addressing Greece's debt. Sources also pointed out that talks with Mr. Dijsselbloem were constructive and held in a positive climate.
Dijsselbloem himself said that he "had good talks this evening with Tsakalotos, looking ahead and discussions on the challenges for Greece."
Meanwhile, US Treasury Secretary Jack Lew announced that it is important Greece continues to implement reforms firmly. According to reports Secretary Lew commended Tsakalotos for the reforms Greece has adopted to date. Secretary Lew reiterated the importance of the Greek government continuing to implement reforms and work closely with its international partners.
He also underlined the importance of the international community following through on its commitment to put Greece's debt on a sustainable path through debt relief, provided that Greece continues to meet its commitments and agreed reforms are put in place.
Jack Lew added that the US Treasury continues to closely monitor Greece's economic situation and noted the important role of the International Monetary Fund (IMF) to the reform process.
Athens would like to see the IMF take on the role of "technical advisor" in the Greek program as opposed to participating financially in the new bailout package. However, these hopes appear to have been dashed following recent statements by Eurozone and US officials. The Greek government will have to find a way to balance between the IMF's demands for austerity and unpopular reforms (especially in social security and labor relations) and the fact that the Fund remains an ally in Athens' quest for debt relief against the objections by certain Eurozone member-states.
Premier Alexis Tsipras is expected to discuss Greece's reform program and its desire for debt relief with world leaders and business people in the annual World Economic Forum (WEF) meeting which will be held on January 21-24 in Davos, Switzerland.