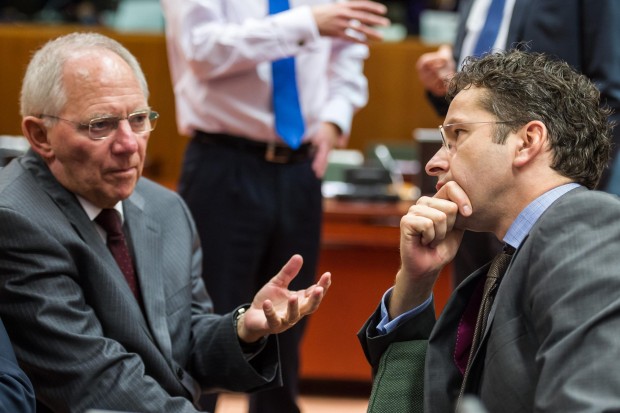 By Lefteris Yallouros – Athens
Greece's hopes of being granted debt relief by its EU counterparts were dealt a blow Monday. Following a Eurogroup meeting in Brussels, group President Jeroen Dijsselbloem said the issue would be discussed after European Parliament elections in May. German Finance minister Wolfgang Schaeuble also said it was not the time to discuss debt relief for Greece, in line with German Chancellor Angela Merkel's wish to avoid granting aid to Greece before the European elections in order to avoid boosting the Eurosceptic vote.
Minister also fired stern warnings to the Greek government that a solution must be found with the troika sooner rather than later so that the stalled negotiations could finally be wrapped up.
Greek Finance Minister Yannis Stournaras said the envoys would be in Athens "by Sunday."
"If the current program and all the conditions are fulfilled, then further disbursements can take place before May that will finance Greece until August," Eurogroup chief Jeroen Dijsselbloem said.
"Greece and the troika have to concur that Greece is taking the steps that have been agreed in the program. That condition must be met and then the next tranche can be paid," Wolfgang Schaeuble said.
Meanwhile, European Economic and Monetary Affairs Commissioner Olli Rehn also hyped the pressure on the Greek government, stating an agreement with the troika was necessary but not an easy task. "It is in everyone's interest, especially Greece's, to do what it must do," he said.
The delay to opening talks on Greek debt relief coupled by the difficult negotiations coming up with troika officials deals a blow to Prime Minister Antonis Samaras and the New Democracy-PASOK coalition government in the run up to the election as they will have to defend unpopular economic policies without much positive signs that Greek sacrifices and austerity are paying off.
Government sources say a return to bond market in the second half of 2014 is being examined while the Prime Minister to return the bulk of a primary surplus achieved last year to the people through a set of measures aimed at taking some pressure off those being hard-hit by austerity such as low income pensioners and the unemployed or security services staff who suffered large pay cuts.