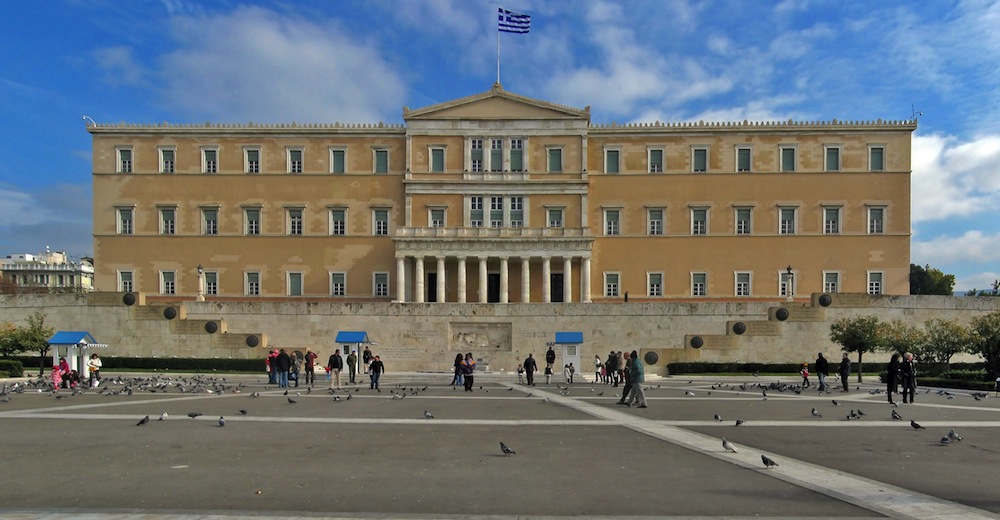 The tabling in parliament on Wednesday of Greece's 2019 budget dominates headlines in Athens, as the text is being hailed as proof that the economy has turned a page.
The key element of focus is the non-inclusion of legislated pension cuts for 2019 in the budget, a key government policy goal. Analysts point out that Prime Minister Alexis Tsipras is being rewarded for carrying out agreed reforms and achieving fiscal targets, which will be crucial ahead of a general election in 2019.
The budget projects the economy will grow by 2 percent in 2018 and 2.5 percent next year. It also mentions the economy will outperform on its primary surplus targets for the fifth year running, returning a surplus of 3.6 percent of economic output.
The government also saw the country's debt at 167.8 percent of GDP next year from 180.4 this year.
Private consumption is expected to increase by 1.1 percent. Unemployment is forecast to come in at 18.2 percent in 2019.
The budget also includes 900 million euros worth of government support in the form of family and housing benefits, tax cuts and reduced social charges.
Speaking in parliament, Deputy Finance Minister Giorgos Chouliarakis told lawmakers:  "This is the first budget since 2008 which includes a very clear fiscal expansion of about 0.5 percent (910 million euros) of gross domestic output […] a first crucial step in changing the fiscal policy mix."
The 2019 draft represents "the first expanded budget in a decade," government spokesman Dimitris Tzanakopoulos said.
The shadow Finance Minister of main opposition New Democracy said in an announcement that this budget "is the government's swan song" after "four years of delusion, irresponsibility, adventurism and obsession". Christos Staikouras said the government's policies have cost the people dearly, especially those on lower income. He argued that the excessive primary surpluses raised by the government are unnecessary and counterproductive.
On behalf of the Movement for Change, MP Thanasis Theocharopoulos told parliament that the government is not being honest with the people, while criticizing the policy of exceeding primary surplus targets. "No country can operate with primary surpluses above 3.5% over so many years", he said.
The Communist Party MP, Thanasis Pafilis, said the first post-bailout budget included commitments that stretch to the year 2060 as well as tough measures that will apply in 2019 and 2020.
Earlier, the European Commission approved of the draft 2019 budget submitted by the Greek government, considering that it fully meets Stability Pact rules. However, it appeared dissatisfied with the rate of post-bailout reforms underway.
The draft state budget will be introduced to the competent parliamentary committee on Monday 26 November. It will be brought for discussion to the parliament plenum on Wednesday 12 December in order to be submitted for voting until Tuesday 18 December./IBNA