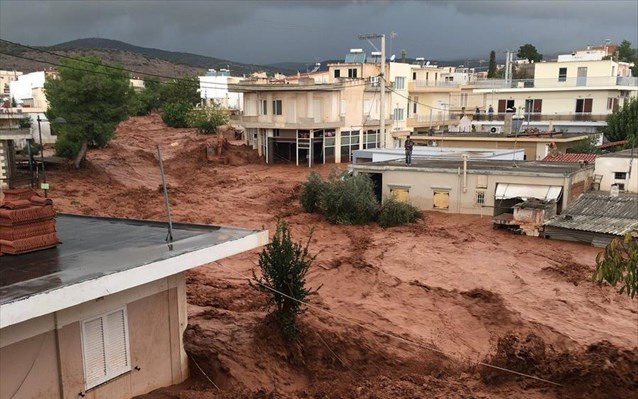 The death toll due to the current downpour in the wider prefecture of Attica, has left twenty-three (23) people dead -more deaths than in the disaster of 1994, when due to the overflowing of Podoniftis or Kifissos river, 17 people had drowned- and two (2) persons missing, according to latest information, reminding older local residents the similar tragedies of 1961 when the dead people were 40 and that of 1977 that 37 persons died.
The 23rd person who died was a woman who was hospitalised ever since the disaster hit Athens.
The toll rose even more on the morning of Tuesday, November 21, almost a week after last Wednesday's floods, when one more body was found by rescuers who are still looking for the missing persons in the area.
Too many people were trapped in places where roads turned to raging torrents or were unable to flee their cars or homes.
Apart from the dead, many are injured and at the hospital right now, whereas others are feared missing in the areas of Mandra "with authorities investigating whether they were flood victims or had taken refuge elsewhere", reports ANA-MPA.
The heavy rain on Wednesday early morning hours, mostly affected the western parts of Attica such as Mandra, Nea Peramos and Megara.
"A state of emergency has now been declared in all three areas, while Alternate Citizen Protection Minister Nikos Toskas had made his way to there to oversee rescue operations. According to government sources, Prime Minister Alexis Tsipras has also contacted Toskas on the phone and was briefed about the operations in the area", wrote ANA-MPA…/IBNA
Photo: Twitter