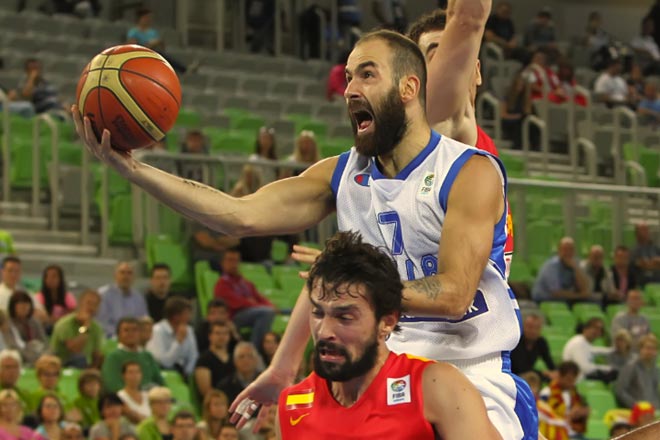 Review by Christos T. Panagopoulos
Slovenia – Italy 84-77
Slovenia opened the Second Stage of the home EuroBasket with victory. The hosts prevailed against Italy to jump at 2-1 record in Group F. Italy suffered the first defeat at the tournament to slip at 2-1.Goran Dragic (190-PG-86) stepped up with 22 points and 6 assists to lead Slovenia. Cusin and Aradori gave the visitors an early advantage. Italy maintained the lead throughout the opening quarter.Alessandro Gentile (198-G/F-92) and Belinelli made it 21:18 for the Azzurri at the first break. But Slovenia opened the second frame with 7 straight points to pull ahead. Alessandro Gentile returned the lead to Italy but not for long. Begic sparked a 6:2 run from the hosts as they accumulated a 40:34 advantage. Slovenia arrived at halftime up by 6 points 45:39. Aradori and Luigi Datome erased the deficit early in the third term. But Slovenia reacted with a 10:0 run to clear off. They ensured a 60:54 lead at the final break. Alessandro Gentile and Belinelli tried to keep the Azzurri in the game throughout the fourth frame. Luigi Datome and Aradori trimmed the deficit to just three points 72:75 with just over two minutes remaining. But Zoran Dragic (196-F/G-89) and Goran Dragic sank several key buckets and led the hosts to important victory in Group F. Zoran Dragic posted 15 points and 10 boards, while Bostjan Nachbar added 13 points in the victory. Alessandro Gentile responded with 20 points for Italy. Luigi Datome chipped in 16 points in the losing effort.
Greece – Spain 79-75
Vassilis Spanoulis (193-G-82, agency: Beo Basket) leads Greece past EuroBasket 2011 Champions. He nailed 20 points as Greece beat Spain 79:75. Spain scored the first five points in the game and Aguilar later nailed three for 10:5 lead. Rudy Fernandez (198-SF-85) posted five in a row for 17:10 and Ioannis Bourousis closed the first period at 26:16. He nailed another two from the free throw line to bring his team within one point at 30:29. Vassilis Spanoulis gave Greece 37:34, while Kostas Kaimakoglou (206-C/F-83) nailed three for +6. Rubio sent the teams to the lockers at 41:38. Spain managed to win the third period 19-11 and grabbed the lead back. Kostas Kaimakoglou and Sloukas reduced to 60:56, while Ioannis Bourousis made another two free throws for 66:L64 with 5 minutes to go. Marc Gasol and Bramos exchanged the baskets at 70:66 and Kostas Kaimakoglou netted two for 72:66. Vassilis Spanoulis made two free throws for 77:70 and then he added two more for 79:73. Rubio scored two free throws at the end for the final result. Kostas Kaimakoglou posted 11, while Georgios Printezis and Ioannis Bourousis had 10 each. Marc Gasol and Rudy Fernandez answered with 20 points in the losing effort. Victor Claver poured in 9 and Ricky Rubio added 6.
Finland – Croatia 63-88
Croatia opened their EuroBasket Second Stage campaign in style. They fired past Finland for 2-1 record in Group F. Finland slipped at 1-2 record after the loss. Damjan Rudez (203-F-86, agency: FCM) stepped up with 17 points to lead the winners. Croatia capped the opening quarter with six points in a row to gain a 17:11 lead. The margin just kept on growing afterwards. Croatia dominated in the paint and thus dictated the game. They opened the second quarter on a 13:1 run to take a 30:12 lead. Croatia arrived at the interval up by 19 points 39:20. Finland struggled to find the right rhythm on both ends of the floor. Croatia piled up a massive 63:38 advantage heading into the final stanza. The Croats did not allow Finland to prevail in a single quarter as they coasted to a comprehensive victory at the end. Bojan Bogdanovic (203-SG-89, agency: XL Basketball Agency) finished with 15 points, while Roko-Leni Ukic and Ante Tomic contributed 11 points each in the victory. Shawn Huff (198-SF-84, college: Valparaiso) responded with 10 points for Finland. Tuukka Kotti and Mikko Koivisto chipped in 8 points each in the loss.
The quarter-finals' fixtures are as follows:
Lithuania Sep. 13 Belgium
Ukraine Sep. 13 Serbia
France Sep. 13 Latvia
Spain Sep. 14 Finland
Greece Sep. 14 Slovenia
Croatia Sep. 14 Italy
Source: Eurobasket.com