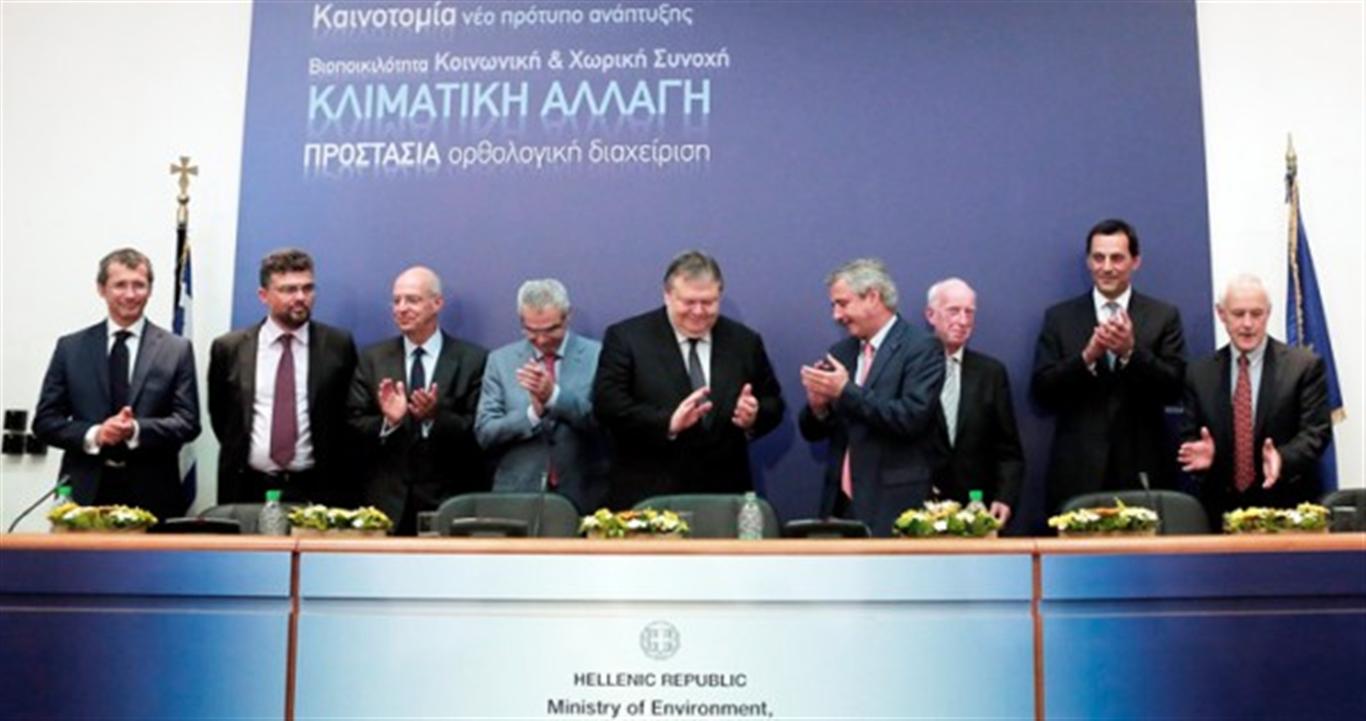 By Lefteris Yallouros – Athens
Three agreements for hydrocarbon exploration in the areas of Ioannina, the Gulf of Patras and Katakolo were signed Wednesday between the Greek state and contractors.
A ceremony was held at the Energy Ministry in Athens in the presence of Deputy Prime Minister Evangelos Venizelos, Energy Minister Yiannis Maniatis and his British counterpart Edward Davey, and Canadian Ambassador to Greece Robert Peck.
"We are creating a new market and essentially a new sector in the Greek economy," Energy minister Maniatis said. The minister stressed many jobs will be created especially for young people.
Deputy Prime Minister Venizelos said taking advantage of the continental shelf and Exclusive Economic Zone (EEZ) will all neighboring countries based on the Law of the Sea treaty, is a Greek government priority.
The contracts have been awarded as follows:
·         As concerns Ioannina, the consortium of ENERGEAN OIL AND GAS / PETRA PETROLEUM,
·         For the sea region of the Gulf of Patras the consortium HELLENIC PETROLEUM/ EDISON / PETROCELTIC,
·         And for the Katakolo region the consortium ENERGEAN OIL AND GAS / TRAJAN OIL & GAS Ltd.
The first drillings in the surveying will start off the coast of Katakolo in the western Peloponnese within two years. Within three years there will be up to three drillings in the Ioannina region and in the Patraikos Gulf.
Retrievable reserves are estimated at 200 million barrels in Patras, 100 million in Ioannina and 5 million in Katakolo.
Revenues for the state accrue from the following:
i) Taxation, 20% (regular) + 5% (regional tax) = 25%,   ii) Rental fees, based on:
·         production levels,
·         geographical, geological, and other regional characteristics,
·         revenue and expenditure factor (R-Factor).
The consortiums have committed to total investments in research amounting to EUR 60 million, which – depending on the findings – could reach up to EUR 700 millio. The Greek state could stand to gain as much USD 18 billion over the course of the next 30 years, should estimations on reserves in the three areas prove correct.
Another set of concessions in the Ionian Sea and south of Crete is expected to proceed in June while last month, Italy's Enel separately sought permission to explore another three onshore areas, also in western Greece.