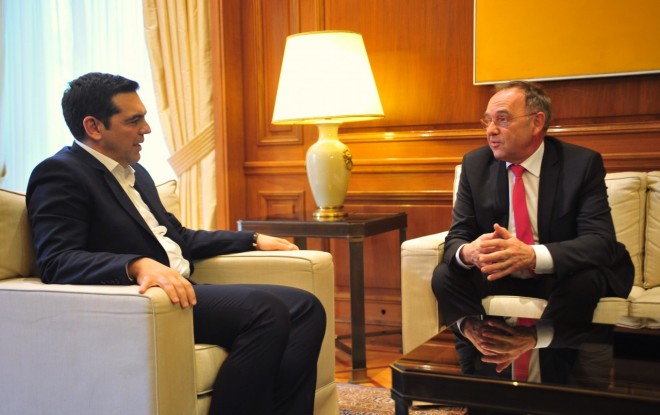 Athens, January 16, 2016/ Independent Balkan News Agency
By Marina Spyropoulou
Greece's government signed a deal on Saturday in Athens with the German state of North Rhine-Westphalia for the exchange of data and know-how in the context of a wider "crusade" to crack down on high-level tax evasion.
One of the root causes of the Greek debt crisis chronic tax dodging has cost dearly to Greek citizens. The Left government which came in office a year ago pledged to turn page and confront such phenomena.
"Several individuals have lost their sleep" Prime Minister Alexis Tsipras said welcoming the German state's Finance Minister Norbert Walter-Borjans shortly before the signing ceremony.
Under the deal an initial fifty Greek tax inspectors will be trained at centers in the German state on ways to improve tax collection, while the exchange of information and expertise in the field of tax assessment, tax audit, tax collection and fraud combating will be intensified.
"Tax evasion does not respect borders of any kind. Therefore, countries have to work together more closely. Our partnership launched today is one component as is the international exchange of information on a global level," Walter- Borjans said during the joint press conference.
On Greece's part Alternate Finance Minister Tryfon Alexiades and Alternate Justice Minister Dimitrios Papaggelopoulos who both co-signed the declaration of intent welcomed the German state's cooperation.
In November 2015 North Rhine-Westphalia forwarded to Greek authorities a list of more than 10,400 files of Greek major depositors in Swiss banks to assist Athens with the persecution of potential tax evaders. It has been estimated that the deposits amounted to at least 3.9 billion Swiss francs in 2008.
Over the past two weeks financial crimes prosecutors have begun sending dozens of summons to individuals and companies whose names appear on the list to ascertain whether the deposits were properly declared and subject to taxation, Alexiades noted.
The Greek official underlined the government's political will to shed light on the cases, detect tax cheating and bring tax and social justice.
"It took previous governments three years to identify the first depositor of the so-called Lagarde list. In less than three weeks authorities identified hundreds of depositors included in the Walter-Borjans list," the minister said, as the German official confirmed that the German state had first attempted to turn over the list to Greek authorities in 2012 with no result.