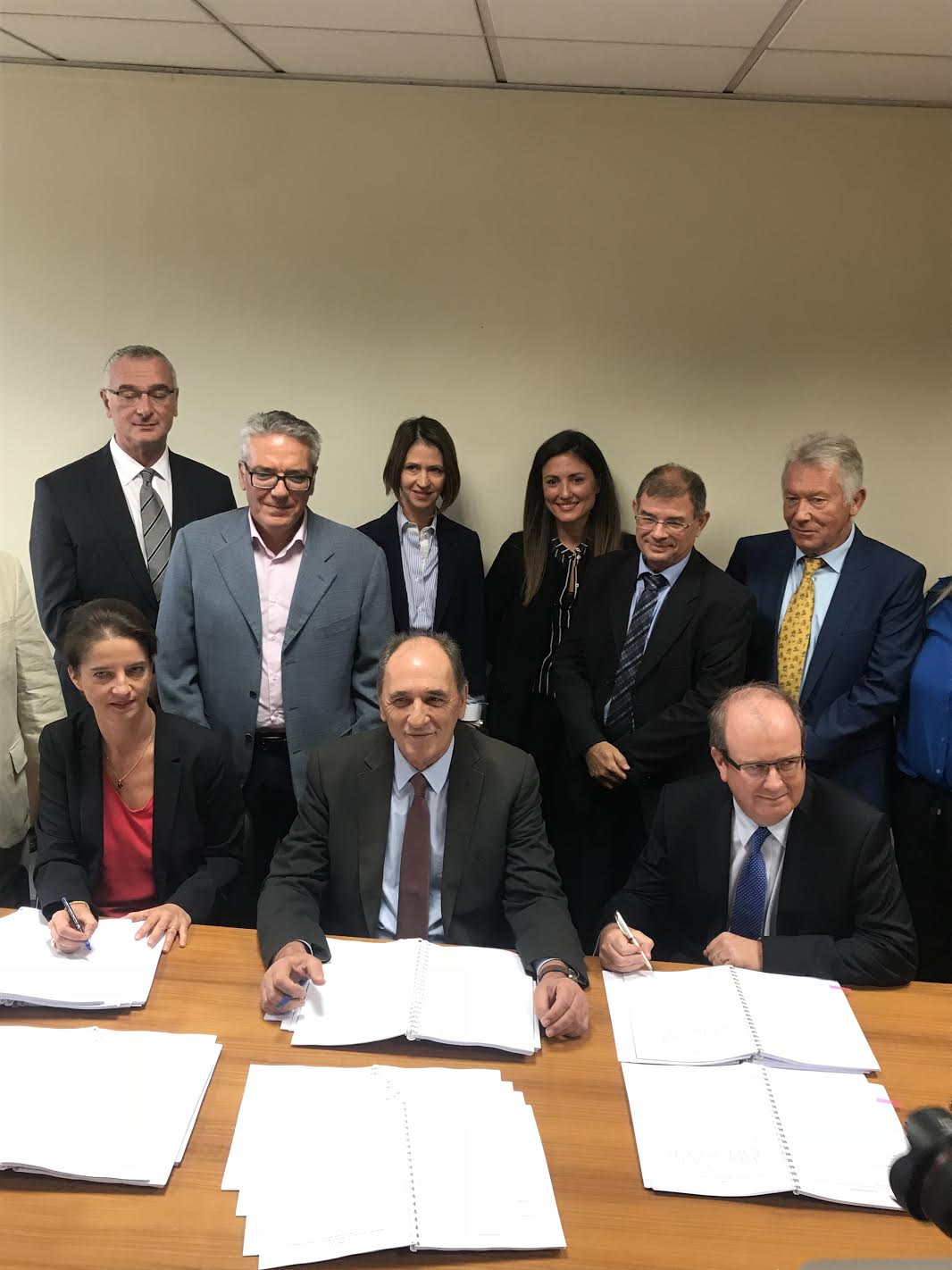 Greek Minister of Environment and Energy, George Stathakis, the Chairman of the Hellenic Management Company of Hydrocarbons, Ioannis Basias and the representatives of Total, Isabelle Gastineau, ExxonMobil, Tom McMahon and Yiannis Grigoriou of the Hellenic Petroleum S.A (HELPE) proceeded to the initiation of the concession contracts for the exploration and exploitation of hydrocarbons in two marine "plots" south and southwest of Crete and one in Kyparissiakos Gulf.
"Today we are signing major agreements with ExxonMobil, Total and Hellenic Petroleum", said George Stathakis, adding that the agreement is also expected for the offshore field of the Ionian Sea, while the gradual renegotiation of 17 other maritime and land areas is proceeding as planned.
"In competitions that took place in 2014, there was interest in part of the plots, most of them were left unexploited. These plots are now being re-examined in order to make different types of announcements in order to have a clearer picture so that whenever and when they are proclaimed there is a similar interest and these areas remain viable", noted George Stathakis.
An important element is that 100% of European environmental legislation is the most stringent in the world and that all stages of research are made transparently in co-operation with local communities in joint monitoring committees.
"In fact, the region of the Mediterranean Sea acquires a strategic character in the production of hydrocarbons for Europe. We have now captured the dynamics of this whole region, in Cyprus, Israel, in Egypt, and now also in Greece", Greece's Energy minister pointed out.
Regarding Crete, the Total consortium has been selected (which is the administrator by 40%) ExxonMobil (40%) and Hellenic Petroleum (HELPE) (20%), while for the Kyparissia Gulf the HELPE (100%).
The same steps will be taken for the Ionian Sea area too, following the decision of the Ministry to define the consortium of Repsol (administrator by 50%) and HELPE (50% as the selected bidder).
So far, the Greek Parliament has ratified the research contracts in the following regions:
* Gulf of Patra (administrative work shared by HELPE 50% and Edison 50%)
* "Plot 2" west of Corfu (Total 50%, HELPE 25% and Edison 25%),
* Mainland areas (of Greece) Arta – Preveza (100% HELPE), Northwest Peloponnese (HELPE 100%), Aitoloakarnania and Ioannina (Repsol 60%, Energean 40%).
In Katakolo too (Energean 100%), the delimitation has been completed and the start of the exploitation is expected, while in the area of ​​Prinos-Kavalas there is the only holding by Energean (100%) for decades now…. / IBNA