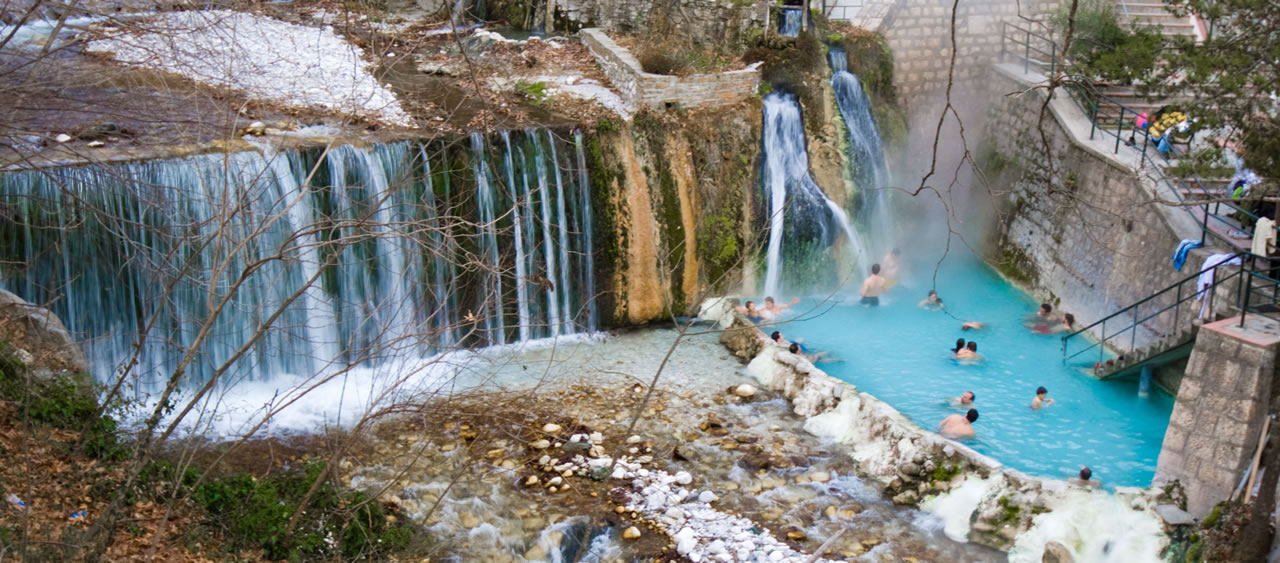 What is desired following a medical congress so to speak is the drive to see whatever ideas were put forward, be put into action.
So, in the case of the 4th Panhellenic Congress of Thermal Medicine, co-organised by the Hellenic Academy of Thermal Medicine and the Central Union of Municipalities of Greece, on 12-14 October 2018, held in the sea town of Kamena Vourla -nearly two hours away from the Greek capital city, Athens- this could be considered (a future) fact. The main point was to let those interested know Greece's immense potential in thermal medicinal tourism.
The President of Central Union of Municipalities of Greece (KEDE) and President of the Hellenic National Tourism Tourism Council ELITOUR Giorgos Patoulis, who is also a doctor, and a major proponent of Greece's thermal natural resources' promotion, stated:
"In 2025, Thermal tourism will be the world's 2nd largest health care industry, and it is the only type of tourism that creates forced repeaters. It is Greece's greatest challenge to play a leading role in the rapidly rising international market of spa and wellness tourists, teaching the original Greek experience of 'wellness' to the global audience."
"Thermal tourism is a dominant lever in the National Health Tourism Strategic Plan, while the hundreds of our natural Thermal Springs remain a dominant advantage for the promotion of Greece's  Health tourists worldwide", Patoulis added.
The President of the Hellenic Academy Thermal Medicine, President of the World Academy of Chinese and Complementary Medicine and President and Chief Organizer of the 4th Panhellenic Conference, Professor Konstantinos Kouskoukis, stated:
"Thermal hydrotherapy has until now been empirical, but has become a complementary method of classical medicine by the documentation of the chemical action of natural healing resources, through Thermal and chemical mechanism . Today, Thermal hydrotherapy is targeted to millions of wellness tourists of the international market , who enjoy the healing benefits of hot springs around the world for a wide range of illnesses, a form of Health Tourism that is covered by the health insurance of the Health travelers. The challenge for our country remains high, and it is important not to waste a moment on promoting Greece for its thermal and natural healing resources",  Professor Konstantinos Kouskoukis noted.
In total, Greece has 750 natural mineral springs with healing power. Patoulis underlined that, right now, 696 of the country's 750 potential spa destinations remain unexploited. It must be said that often, in cases such as the one of the Thermopyles Springs, not far from Kammena Vourla where the congress was held, the site, though beautiful with potential, is known only to those who have happened to be introduced to it, as it is "hidden", off the main road and without adequate signs which could lead people there. As for the actual site, it is completely neglected, however, highly appreciated by nature and spa lovers and mainly locals who use it constantly during winter months since the water coming out is not only healing but 40 C warm, at all times.
Spa tourism upgrades Greek cities and regions into destinations promoting health and well-being, is what Giorgos Patoulis has said, according to ANA-MPA.
"We aim to establish Greece as one of Europe's largest spa centres". Meanwhile, he urged local authorities to insist so that "all together, we can turn spa facilities into a chain of certified points of spa tourism that will encourage travelers to make repeat visits to Greece for their rejuvenation and health."…. / IBNA
Main Photo (File): Pozar Thermal Spa, At the foot of Kaimaktsalan mountain, in Pella, northern Greece