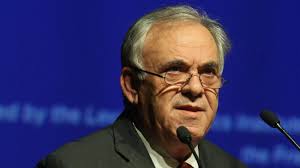 Greek Deputy Prime Minister, Yannis Dragasakis, revealed on Thursday evening that the country could attempt to access bond markets before the end of the year as it is now believed that QE-inclusion is not necessary.
In an interview with state broadcaster, ERT, the vice president of the Greek government said a trial bond issuance could take place in 2017, however, this was merely a means to an end. The main target of the Tsipras administration, according to Dragasakis, is for Greece to exit the bailout program and be able to determine its own future again.
Greece tapped the markets in 2014 with five-year and a three-year bond issues in April and July 2014. The first transaction exceeded expectations and the issue was seven times oversubscribed, raising 3 billion euros.
Responding to questions about the agreement reached at the latest Eurogroup meeting to wrap up the second review of the bailout program, the deputy PM said the deal has "many strong points" the government could utilize. He admitted there are also "grey points" to the agreement that must be determined in future.
"The positives of the agreement will not come automatically, but we must take advantage of them" he stated.
Dragasakis, a highly influential figure within the coalition government, rests hopes for economic recovery on the establishment of a new Development Bank for Greece that is being planned to launch in September.
The deputy PM, who leads deliberations with Greece's bankers, said the lack of such a bank in recent years is an issue that needs addressing.
The recent Eurogroup meeting expressed its support of the efforts of the Greek authorities to work with the European institutions on the creation of a National Development Bank that would coordinate the implementation of development and promotional activities and "strengthen the pipelines of viable investment projects".
Eurozone member-stated have vowed to step up efforts to provide technical assistance to Greece from the European Investment Advisory Hub with a view to facilitating the preparation of investable projects and the establishment of investment platforms.
The government is planning to press on with major investment projects in the next few months, including an offshore gas pipeline in Alexandroupolis, a new airport in Castelli (Crete), investments related to local shipyards and the development project in Helliniko.
Finally, Dragasakis commented on the statements made by ESM Managing Director Klaus Regling earlier this week. The ESM chief criticized Greek government ministers for sometimes disagreeing with measures that have been agreed to, "and with specific privatizations." Dragasakis said it wasn't the ESM chief's job to "evaluate ministers"./ΙΒΝΑ