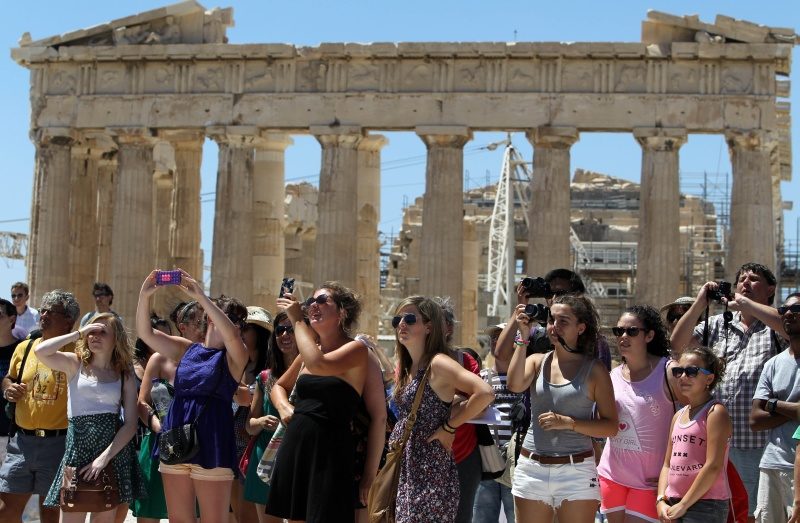 "Explosion" occurred in Greek tourism last year, as travel revenue skyrocketed to EUR 14.6 billion, up by EUR 1.39 billion, with a subsequent 9.7% increase in inbound traffic and average money spend per trip, according to the provisional data of the Bank of Greece.
In particular, in 2017, travel revenue went up by 10.5% compared to 2016 and stood at EUR 14.596 billion. This development is due to a 13.8% increase in EU-28 residents' revenue, which amounted to EUR 9,843 billion, and to an increase of 5,6% in the revenue from residents of non-EU-28 countries, which amounted to EUR 4,327 billion.
In 2017, the travel balance showed a surplus of EUR 12.68 billion, up 13.2%, compared to a surplus of EUR 11.201 billion in 2016. This was the result of an increase in travel revenue by EUR 1.389 billion or 10.5% , as well as the reduction in travel payments by EUR 90 million or 4.5%. The increase in travel revenue is mainly due to the increase in incoming travel traffic by 9.7% and secondarily to the increase in average money spent per trip by 1.4%. Net revenue from travel services offset by 69.1% the deficit in the balance of goods and contributed 72.9% to the total net revenue from services.
Airport traffic increased by 9.9%, while road traffic increased by 8.7%. During the period under review, EU-28 travel traffic stood at 18,583 thousand travellers, showing an increase of 7.9% compared to 2016, while travel from non-EU-28 countries increased by 13,6% to 8,611 thousand travellers./ΙΒΝΑ