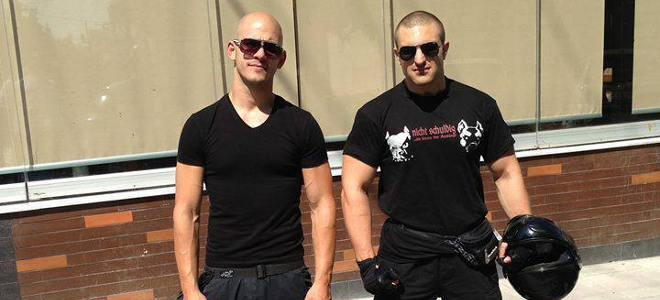 By Lefteris Yallouros – Athens
Two members of neo-Nazi Golden Dawn were shot dead outside party offices in the northern Athens suburb of Neo Iraklio on Friday. Police are investigating the possibility the attack was carried out by terrorists aided by organized crime groups.
22-year-old Manolis Kapelonis and 26-year-old Giorgos Fountoulis were shot dead while 29-year-old Alexandros Gerontas is hospitalized in critical condition.
Two men wearing motorcycle helmets were involved in the attack, although it is possible that there were accomplices at the scene, police says. Twelve bullet casings were recovered from the scene.
The use of a Zastava semi-automatic revolver which has never before been used in an attack puzzled police.
Public Order Minister Nikos Dendias stated immediately after the attack that the "law will be enforced for all," adding that the government would not allow the country to become a place for "settling of accounts for any reason".
"The murderers – whoever they are – will be dealt with unsparingly by our democracy. Let everyone know this," government's spokesman Simos Kedikoglou said.
"This murder creates a climate of instability and targets democracy," said main opposition party SYRIZA.
The Golden Dawn party has issued statements blaming terrorists and also the "anti-Greek government" for the deaths of its members.
The government's crackdown on the party has led to six Golden Dawn lawmakers being indicted for involvement in a "criminal organisation".
Golden Dawn has been linked to two murders, including that of hip hop artist Pavlos Fyssas September 18th, three attempted murders and numerous assaults.
The manner in which the drive-by shooting was carried out points to a domestic terror attack by the far-left. According to Greek daily "Kathimerini", police sources say that the only terrorist group that had committed these kinds of murders in Greece recently was the Sect of Revolutionaries, which claimed responsibility for killing policeman Nektarios Savvas in June 2009 and journalist Sokratis Giolias in July 2010.
Authorities said no one has claimed responsibility for the deadly attack.  Greek leftists on social media have urged followers not assume that it involved opponents of neo-Nazi Golden Dawn.