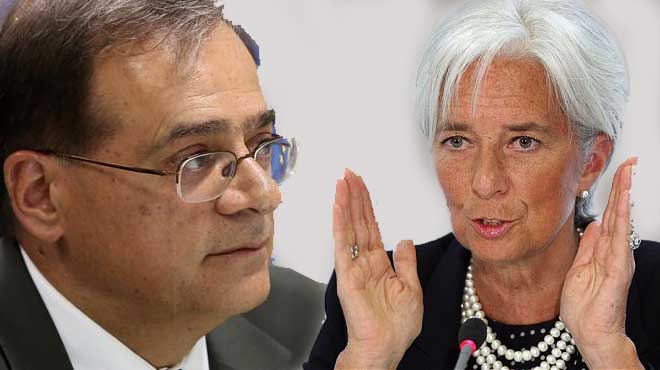 By Lefteris  Yallouros – Athens
Greek Finance Minister Gikas Hardouvelis met with IMF managing director, Christine Lagarde in Washington on Sunday to discuss the country's plan to exit its EU-IMF – sponsored bailout deal more than a year early. Funding from the IMF had been due to expire in March 2016, while funds from the eurozone end this year.
According to a Fund statement on Sunday, talks – which lasted almost forty minutes – focused on "the progress noted in the context of the program and the possible next steps." The announcement also said Christine Lagarde asked for the efficient implementation of the crucial structural reforms included in the Greek streamlining program, and congratulated the Greek government on its progress on the fiscal front. The IMF chief also reiterated the Fund's pledge to support Greece to continue meeting the targets of the program.
"We discussed the present and future" said Gikas Hardouvelis after the meeting. "Mrs Lagarde congratulated us on the very big progress our country has made in the last few years. She recommended that we continue the reforms, and that these reforms take place in such a way as to be owned by the Greek people and to be continued, we should not backtrack. The IMF will assist the Greek effort in what we are now trying to achieve" the Greek minister revealed.
Also present in Sunday's meeting were IMF official Poul Thomsen and Bank of Greece governor Yannis Stournaras.
The Greek delegation informed IMF officials that the government seeks to transform its relation with the Fund in coming months; having secured the agreement and backing of its institutional partners. The meeting was seen by the Greek side as the beginning of an initiative that will lead to exiting the bailout deal.
Significant developments are expected towards this end after the 5th and final review of progress in the country's adjustment program by the troika is over – possibly early November – and results of ECB stress tests are announced October 26.
The IMF on the other hand is supportive of Greece's intentions. However, as Christine Lagarde stated last week, "in order to deliver a continuous satisfactory outcome, the country would be in a better position if it had precautionary support." "We are talking about evolution in the relationship. But we believe that the relationship can still be extremely helpful for the country to move on" she added.
Greece – faced with a financing gap of about EUR 15bn next year – is open to the Lagarde's suggestions as it realizes that a smooth return to capital markets hinges on the elimination of any uncertainty surrounding the end of the current funding program as well as determination on Greece's part to ensure its economy is run properly, true with the reform effort made so far.