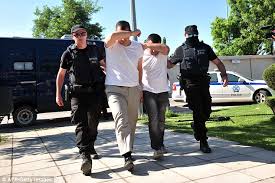 Athens, October 12, 2016/Independent Balkan News Agency
The requests for asylum of four out of the eight Turkish soldiers who fled to Greece after the failed coup attempt in Turkey, were rejected on Tuesday.
The decision for continuity requests of the process were also negative for two of the soldiers, whose cases had been closed.
Specifically, the Asylum Service confirmed to ANA-MPA that "this morning four asylum requests were denied  as well as two medical request applications."
The decisions were served in the police station located near the Olympic Village, where they are held.
As the eight's lawyer,  Stavroula Tomaras, stated to ANA-MPA, for all the above cases, second instance legal proceedings will follow. Concerning the four rejected asylum claims she states that "the request which was filed under Dublin Regulation III, had not even been taken into account by the Asylum Office, in order to consider requests from another EU Member State".
On September 21st another soldier, of the eight, was denied asylum, for which an appeal to a secondary committee has been made. A ruling on another Turkish soldier is still pending.