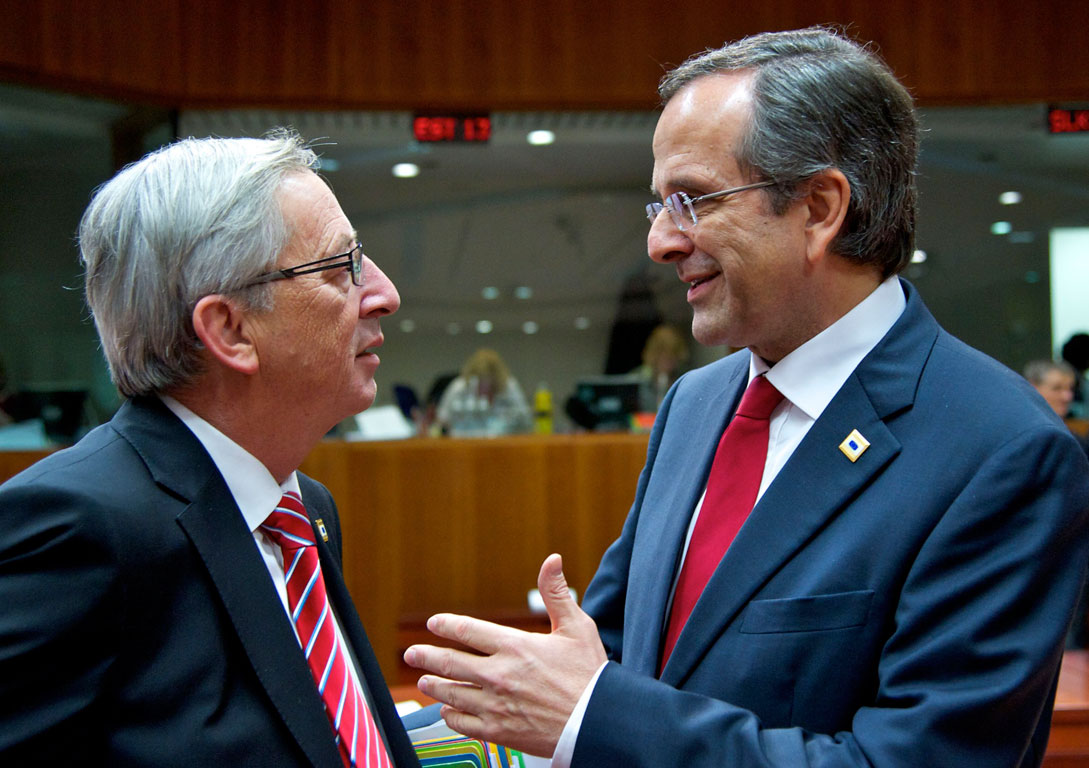 By Lefteris Yallouros – Athens
"We are negotiating closely with our lenders the next day after the end of the programme, a prudent exit to normality," Greek Prime Minister Antonis Samaras told reporters on the sidelines of an EU summit in Brussels on Thursday.
The Greek PM met with European Commission President Jean Claude Juncker to discuss the details of the country's exit from the EU & IMF – sponsored bailout.
Government sources indicated a deal was reached for a precautionary credit line to be made available to Greece from it's eurozone partners. As Greek banks are expected to pass a European Central Bank stress test largely unscathed, emergency funds leftover to cover capital needs will be used to cover Greece's future funding gaps.
Some EUR 11 billion will be kept aside to act as a cushion for when Greece taps bond markets. The funds will be available to Greece should the country have trouble borrowing from bond markets. The government, in return, will have to deliver a series of agreed fiscal and structural reforms and measures.
Meanwhile, addressing a Francophone Economic Forum in Athens, Greek Finance Minister Gikas Hardouvelis said "he Greek economy is expected to have a positive real growth rate in the third quarter of 2014 and a positive annual real growth rate of GDP in 2014 after six years of continuous shrinking".
Hardouvelis reassured that fiscal credibility and structural changes would be protected. Referring to a new era in relations with the EU counterparts and the IMF, the minister said a precondition was "fulfilling fiscal targets, improving economic data and continuing reforms and mostly political responsibility and stability".
Hardouvelis met with Bank of Greece governor Yannis Stournaras on Thursday to discuss the ECB stress test results. Official results will be announced on Sunday (1100 GMT). Press reports suggest capital requirements range from zero to small for Greek banks which will undoubtedly be a great success should the information be officially confirmed.