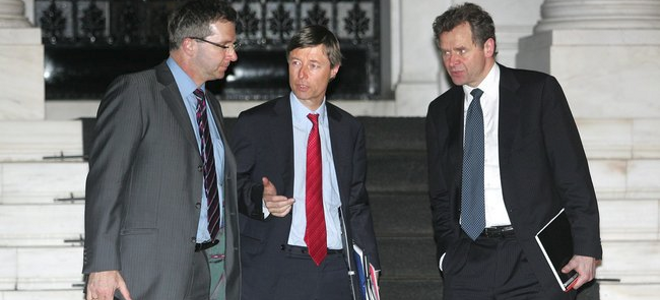 Athens, February 1, 2016/ Independent Balkan News Agency
By Zacharias Petrou
The top officials of Greece's "quadriga" of creditors arrived in Athens over the weekend for talks with the Greek government that begin Monday on the first review of the country's bailout program.
The representatives will remain in Greece until the first phase of the negotiation is completed towards the end of the week.
Finance Minister Euclid Tsakalotos will head the Greek team of negotiators.
Social security is the most difficult issue on the agenda. The International Monetary Fund is pushing for cuts of at least 15 percent to pensions. It is also likely that the quartet will reject the Greek proposal for a 1.5 percentage point rise in social security contributions. The minimum number of years needed for someone to qualify for a basic pension is also a thorny subject.
Opposition to the government's plans for pension reform is growing with farmers keeping tractors parked at key junctions of the national road network as they plan to escalate mobilizations. Moreover, self-employed professionals including doctors, lawyers, engineers and notaries, also plan further protests this week culminating in a nationwide general strike on February 4th.
Apart from pensions, the possibility of Greece needing to adopt more fiscal measures will also be among issues on the table. The details of Greece's new privatization fund and the sale of nonperforming loans will also be discussed.
Despite the triple threat of talks with creditors, protests against social security reform and dealing with the immigration crisis, Athens is confident its efforts are on the right track.
"We are moving to the restructuring of our country, overcoming the crisis and recovering our sovereignty," Prime Minister Alexis Tsipras said in an article in "Avghi" newspaper on Sunday.
"Greece will make the big step forward. It will win the battle of democracy, restructuring, social justice and solidarity, paving the way for Europe to follow suit," he underlined.
Meanwhile, Finance Minister Euclid Tsakalotos recently said he believes that the review will be completed by the end of March or end of April. Athens has many times said it doesn't wish talks with creditors to drag on for months. A prolonged, or even stalled, review process could cause political and social instability according to Greek government officials.
The assessment of the Greek proposals on social security reform by the troika will largely determine how fast the review is concluded. With labor unions pressing for the entire Greek proposal to be withdrawn and the quadriga pushing in the exact opposite direction, the Syriza-ANEL government will come under significant pressure in coming weeks.