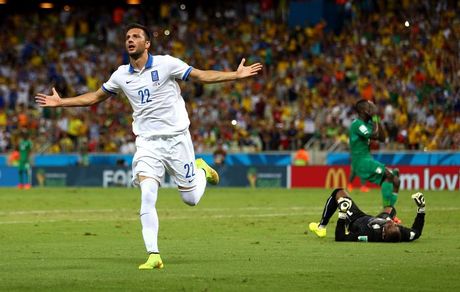 By Spiros Sideris – Athens
Georgios Samaras scored an injury-time penalty for Greece to beat Ivory Coast 2-1 in Fortaleza on Tuesday and book their position in the second round of the World Cup.
What happened in the first 25-minute of the game is perhaps unprecedented in a World Cup match. Greece lost two players to injury (Kone and Karnezis) bringing coach Fernando Santos on the verge of despair.
Despite the misfortune, however, the Greece was not disorientated of the pitch. The 4-5-1 of the Portuguese coach with Samaras at the top and Christodoulopoulos to the left "locked" Ivory Coast spoiling its game, forcing them to individual efforts in order to create opportunities. In offence Greece was trying to pressure Ivory Coast's defense to make an error.
After Cholempas warned with a screamer off the post (33′) Greece never stopped trying and in 43′ threw Africans in the trap. Newcastle's Tiote made a mistake, Samaras played the very quick 1-2 with Samaris – who had replaced Kone earlier – brilliantly and sent the ball to the left with a cool finish.
The "recipe" which was followed in the second half was known. Greece closed the spaces in front the defenders and searched for a second goal with quick counter attacks exploiting the gaps to the sides of Ivory Coast's formation. In this way the National team created the chances of Christodoulopoulos in 54 ', that of Salpingidis 58′ and Karagounis' screamer at 68 '.
Ivory Coast played the card of Bony to provide support for Drogba inside the area and the coach was vindicated for his choice. On the Africans first real chance in the match,  Zervinio exploited the gap in the Greek defense, served in Bony who defeated the Greek goalkeeper Glukos to make it 1-1.
Greece kept pressing and with time running out, Sio felled Samaras when he looked set to shoot on goal, and referee Carlos Vera pointed to the spot for a penalty kick.
Samaras was ice cool as he slotted beyond Boubacar Barry to take Greece into the knockout stages for the first time in history.