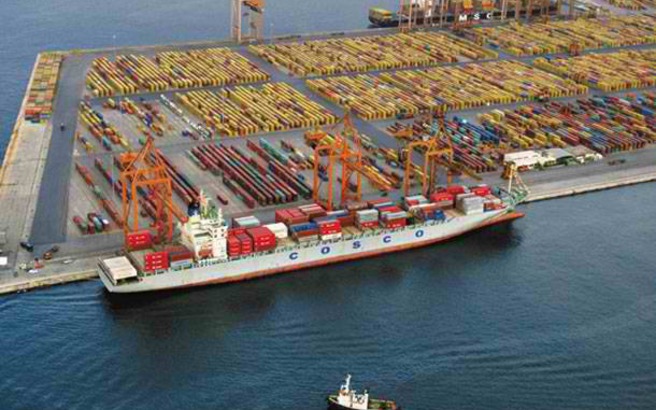 Athens, April 8, 2016/Independent Balkan News Agency
By Marina Spyropoulou
Greece's privatization fund, the Hellenic Republic Asset Development Fund (HRADF), signed on Friday in Athens with Chinese COSCO Group the Share Purchase Agreement and Shareholders Agreement to acquire a 67 percent stake in the Piraeus Port Authority (PPA) in a milestone in the strategic investment, Sino-Greek cooperation and the Greek privatization program.
Under the 35 year concession deal the Chinese investors will pay 280.5 million euros to HRADF for the initial acquisition of a 51 percent stake, andanother 88 million within five years for the remaining 16 percent, provided COSCO has implemented the agreed investments in Greece's largest port.
The agreement was expected to be ratified by the Greek parliament in coming weeks so that the transaction is finalized in June, according to an HRADF press release.
Following the signing ceremony which was hosted at his office Greek Prime Minister Alexis Tsipras said that the investment will "give the signal formore investments" which will support Greece's course to economic recovery.
On the sidelines of the ceremony Tsipras received and accepted an invitation by his Chinese counterpart to visit Beijing in June.
The Greek Premier who in the past had strongly objected to the port's privatization reassured on Friday that the government's aim was to safeguard labor relations.
Meanwhile, hundreds of port employees were staging a protest against the "sell off" in central Athens, clashing with anti-riot police.
On his part, the Chairman of China COSCO Shipping Xu Lirong noted that since the first investment in Piraeus in 2009 the company "has successfully enhanced the competitiveness and significance of Piraeus in the international shipping market, and contributed actively to the local economic development."
Piraeus has become a modern large-scale container terminal with leading technology, the fastest growing port in the past two years in terms of port handling capacity among the Top 100 container ports internationally, and an important hub for many international container liner companiesin the East Mediterranean area, Xu said.
Since 2009, COSCO's subsidiary Piraeus Container Terminal (PCT) has been operating Piers II and III at Piraeus under a 35-year concession agreement posting remarkable results, while PPA has been running Pier I.
COSCO's vision to turn Piraeus into a leading international transit hub for products and services from Asia to Europe has already attracted other major multinationals to the port which are cooperating with PCT to distribute their products across the region.