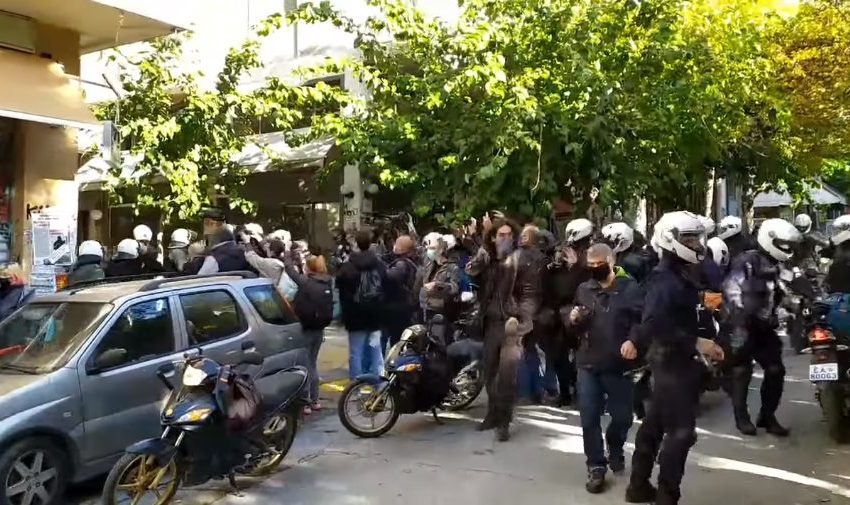 Arbitrariness, pointless use of force and dozens of arrests by police forces were recorded in the "forbidden" commemorative events on the 12th anniversary of the murder by police a officer of 15-year-old Alexis Grigoropoulos in Athens in 2008.
The decision of the Chief of Police for the second time to ban the gatherings of more than three people, foretold that the day would have several similarities with that of November 17, which was the first time gatherings were banned and resulted in increased tension in the planned events that took place.
According to the operational plan of the Police, the scene of the murder of Alexandros Grigoropoulos had been blocked early in the morning, while anyone who was moving towards the point was apprehended. In addition, due to the many photos and videos that saw the light of day due to the arbitrariness and police violence of November 17, it was decided to remove journalists, photojournalists and cameramen from the places where the police crackdown took place. In several cases, journalists were harassed and violence was used during their removal.
Αυτή η σκηνή μου θυμίζει,τρόπο,ύφος,ηχώ από τα γραφεία της Χρυσης την ημέρα των εκλογών
Εγέρθητοοοο#Γρηγοροπουλου #Γρηγοροπουλος #ΝΔ_αλητες pic.twitter.com/XwOe235Hft

— Marka1 (@Marka149133376) December 6, 2020
Many of the approximately 4,000 police officers who took part in the police operation did not observe the sanitary measures, while they did not observe them even during the arrests of the citizens, as they were stacked in police buses without protection measures. According to information, apprehensions reached 100, while among them was the coordinator of KEERFA Petros Konstantinou and the lawyers Costas Papadakis and Thanasis Kampagiannis. In fact, the last two apprehensions turned into arrests. The lawyers were then released, however, a case was filed against them which will be forwarded to the competent prosecutor. Among those apprehended were the director of the Rosa Luxemburg Foundation, Maria Oshana, and a disabled girl.
Story: @Souidos: 'Βίντεο από το πέσιμο στην Τσαμαδού και την ρίψη κροτου λάμψης μέσα σε πολυκατοικία. Δολοφόνοι #antireport #6december #Γρηγοροπουλου #6Δεκεμβρη ' pic.twitter.com/z3ZG44UaD8, see more https://t.co/wnrouqL9pg

— Ulrike Beudgen (@UliBeudgen) December 6, 2020
Police used flash grenades even inside the closed entrance of an apartment building, while groups of police motorcyclists fell on journalists.
Από "Εσύ που ήσουν;"
Μια γυναίκα κατορθωνει και αφήνει λουλούδια στο σημείο της δολοφονίας του Αλέξη #Γρηγοροπουλου και η ντροπή της αστυνομίας τα καταστρέφει pic.twitter.com/jJ1ubO3AIw

— Κατερίνα του Πετρούκιου 🎭 (@petroukiou) December 6, 2020
Even the flowers that were had laid at the scene of Grigoropoulos' murder did not escape the fury of the police.
The police violence was condemned by the opposition parties, while members of SYRIZA, KKE and Mera25 went to the detention centers of the police stations to support the citizens who were being held there./ibna