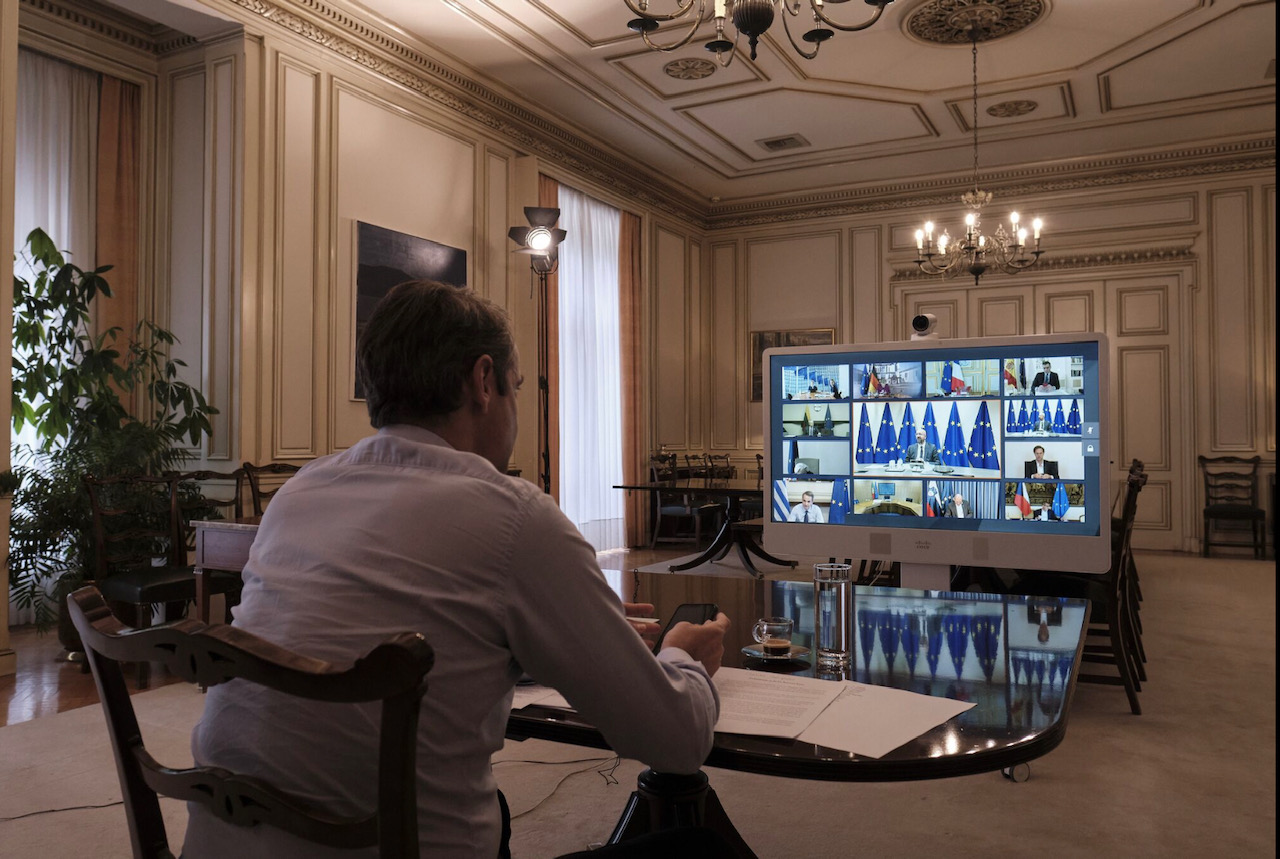 During the European Council Summit held via teleconference, Greek Prime Minister Kyriakos Mitsotakis expressed his full support and called for the immediate establishment of a Recovery Fund.
According to government sources, Kyriakos Mitsotakis stressed that Greece fully supports the urgent establishment of a Recovery Fund in addition to the operation of the Multiannual Financial Framework (MFF).
The Greek Prime Minister agreed with the view that this Fund should be very large and should be financed through some kind of joint long-term debt instrument.
The Fund will have to work hard and focus primarily on subsidies to Member States rather than loans. "We must not allow further increase in the debt-to-GDP ratio", the prime minister warned. He underlined that a strategy that does not burden any country's public debt would constitute an act in the interest of all countries and not just an act of solidarity. He noted that Europe should avoid doing once again "too little, too late".
Kyriakos Mitsotakis suggested to EC President Charles Michel that he ask the Commission to elaborate a very specific proposal for the resumption of air connections as soon as possible. He pointed out that the Single Market does not exist only to support the free movement of goods, but is also consolidated upon the free movement of persons. In this context, and shifting attention to tourism, Kyriakos Mitsotakis called for joint action at European level as soon as possible: "When we talk about European support, a case of tangible proof would be to support tourism in the South", he argued. Going one step further, Kyriakos Mitsotakis stressed that the tourist market was in need of a timely positive sign, calling on all parties to act promptly.
In addition, Kyriakos Mitsotakis reiterated the proposal he has already tabled regarding a common European approach to the patents of a possible vaccine against coronavirus, in order to ensure equal access of Member States to it when we reach the mass vaccination phase.
Concluding, the Greek Prime Minister pointed out that a clear message should be sent to Turkey regarding its provocative actions both in the Aegean and against the Republic of Cyprus. The Prime Minister made special reference to the intensity of the Turkish violations via overflights which climax the level of provocations from the neighboring country, especially after the recent failure of Ankara in its attempt to violate the borders in Evros. /ibna