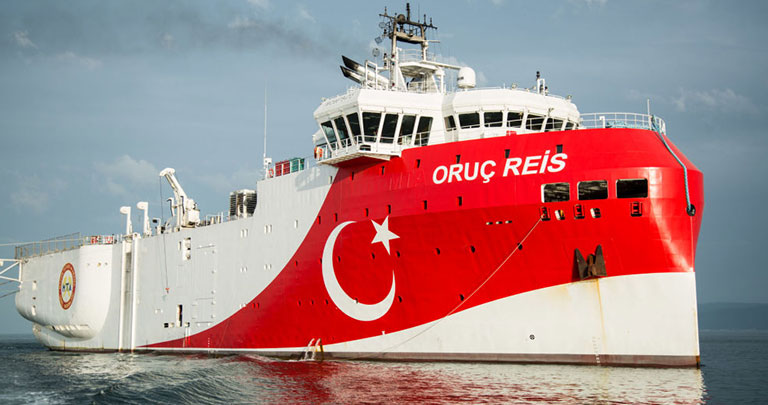 The Turkish research vessel Oruc Reis is currently ten miles within the Greek continental shelf and has spread cables, according to sources from the Greek Ministry of National Defense. The same sources report that the Turkish drillship cannot carry out investigations due to the noise from the warships located in the area.
The Turkish research vessel, by order of Turkish President Recep Tayyip Erdogan, sailed from the port of Antalya to an area southeast of Kastelorizo, ending a month-long moratorium announced in order for the Greek-Turkish dialogue to kick off.
This decision was taken by the Turkish President after the signing of the Agreement for the partial demarcation of the EEZ between Greece and Egypt.
The Greek Prime Minister held talks today with the President of the European Council Charles Michel and NATO Secretary General Jens Stoltenberg.
The Prime Minister informed Charles Michel about the agreement between Greece and Egypt on the demarcation of the Exclusive Economic Zone, as well as about the worrying developments in the Eastern Mediterranean.
Kyriakos Mitsotakis briefed Jens Stoltenberg on developments in the Eastern Mediterranean and on Turkey's behavior that undermines stability in NATO's Southeast Wing, stressing that the policy of equal distances is counterproductive and unacceptable.
For his part, the NATO Secretary General posted on Twitter that he had spoken with the Greek Prime Minister about the situation in the Eastern Mediterranean, emphasizing that the situation must be resolved in a spirit of allied solidarity and in accordance with international law.
At noon, under Prime Minister Kyriakos Mitsotakis, the Government Council of National Security met at the Maximos Mansion, when the situation in the Eastern Mediterranean was reviewed and the ways of reacting to the Turkish provocation were examined. /ibna