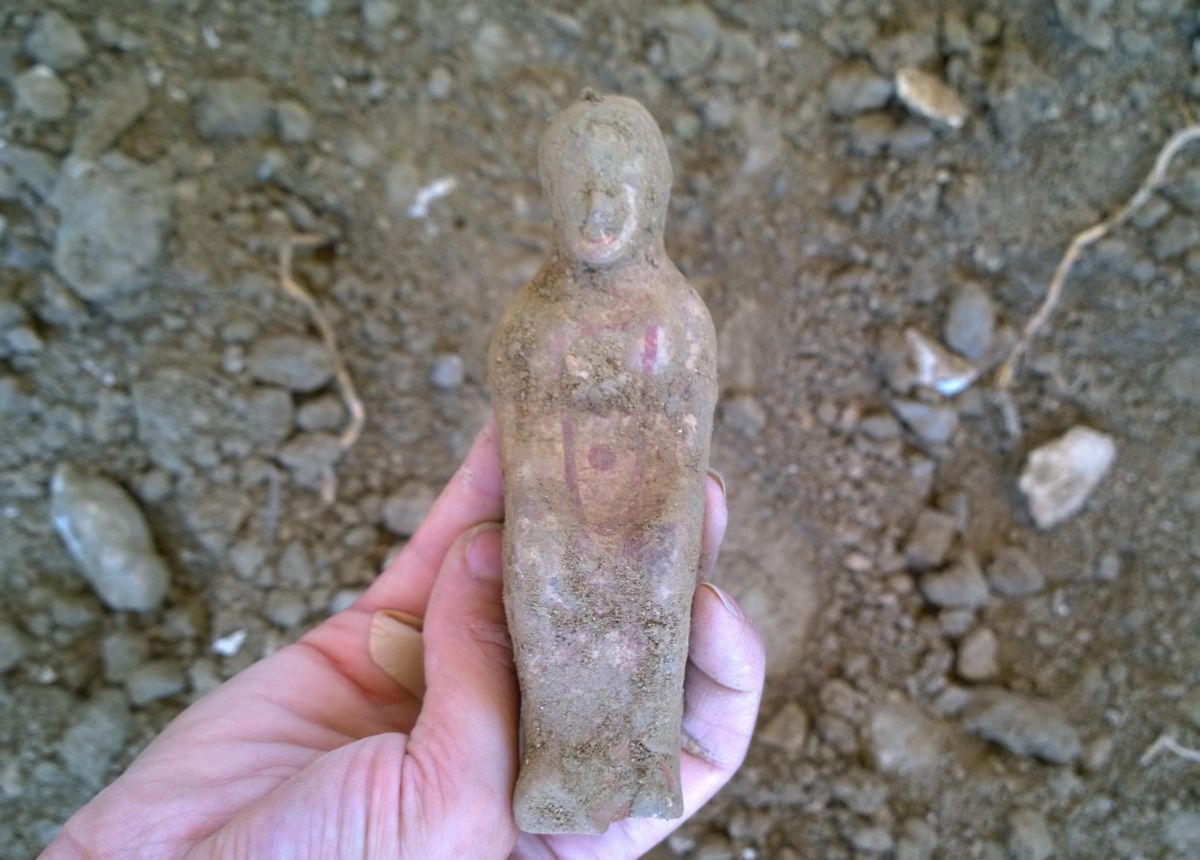 Thanks to excavation activities conducted around the Temple of Artemis Amarysia in Amarynthos on the Greek island of Evia, new finds confirmed archaeologists' initial belief that a large sanctuary enclosure (perivolos in Greek) discovered last year belongs to goddess Artemis.
The 2018 works have been carried out jointly by the Evia Ephorate of Antiquities and the Swiss School of Archaeology in Greece, follow the discovery in the summer of 2017 of one of Evia's most important sanctuaries, the Temple of Artemis Amarysia some 11km from Eretria, gtp reads.
Part of the revealed objects are a 12cm bronze quiver, believed to be part of a statuette of Artemis, and another base for a statue mentioning Artemis, Apollo and their mother Leto, confirm the identification of the sanctuary as belonging to the goddess, although a temple has not been discovered yet, AMNA-MPA reports, while other findings from the area this year included bronze and ceramic statuettes of women and animals, and fragments of marble statuettes of women. Buildings and findings of the sanctuary range between the Late Archaic period (roughly 530 BC) to the Hellenistic (roughly 323 BC).
Amalia Karapaschalidou, ephor emerita of Evia who spoke to the Greek state agency said: "According to ancient sources, this area comprised one of the most important sanctuaries of Evia. To the present, we have excavated two stoas which delineate the sanctuary's eastern and northern boundaries, and a sacred spring.
What is evident is that the sanctuary was very important, extended over a great area, and consisted of many buildings."
Seeing the sanctuary's destruction over the ages, as in the Roman times, Karapaschalidou added an important puzzle piece to why they are in such state, speaking of damage that occurred in the early 20th century: "Neighbors told us that in the beginning of the last century, people from Oropos came to pick up building materials. That is, they broke them down and transported parts of buildings to use them in modern structures or to turn them into lime. We have found a large contemporary lime kiln in the sanctuary, where they have destroyed a lot of remains."…. / IBNA
Main Photo: Seated female clay figurine, one of the new finds discovered by archaeologists in Amarynthos, August 2018 / Culture Ministry