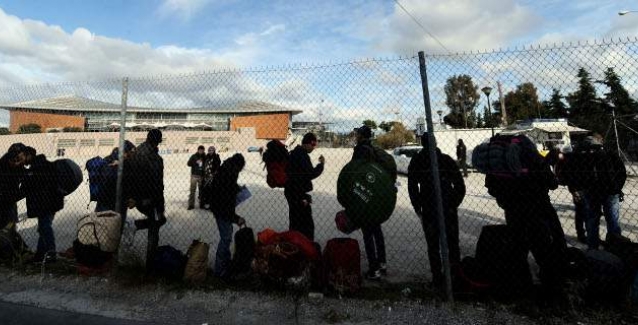 There was a 593%  increase in asylum requests in Greece during November 2016, compared with a monthly average of 2015, according to data from the Greek Asylum Service. Specifically, in November 7,625 requests were filed, while in 2015 an average of 1,100 requests were filed per month.
This increase is even higher in women (932.7%) and unaccompanied minors (711.4%).
Moreover, the biggest increase was observed in Thessaloniki (1514.1%), Lesvos (824.1%) and Thrace (402.5%), while the increase was relatively small in Attica (62.3%) .
The number of asylum requests was also high in the previous months of 2016, with the highest number of applications submitted in the autumn (in September 5, 125 and October 6,268). Overall during the first eleven months of 2016, 27,812 asylum requests were filed from men, 16,563 from women and 2,072 from unaccompanied children.
Most of the applicants were Syrians (23, 649), followed by Pakistanis (4,066), Iraqis (4,055) and Afghans (3,295). However, the largest increase in claims compared with 2015 was from Palestinians (1.800%), Iraqis (1,500%), Algerians (1372.7%), followed by Syrians (1133.7%).
In the first eleven months 6, 522 applications were submitted for consideration on appeal.
There were 2,255 positive decisions issued granting refugee status and subsidiary protection in the first degree and 186 in the second degree. However 6,036 were refused in the first degree and 1,289 in the second degree.
Moreover, 25,142 first degree decisions were pending on 30 November. The recognition rate of the Asylum Office in the first instance amounts to 98.8% for the Syrians, 97.8% for the Palestinians, 65% for Iraqis, 52.5% for the Iranians and 48% for the Afghans.
According to data from the relocation program, from its inception until November 27, 2016 there were 18,448 resettlement applications to the Asylum Service, while at the same time 11, 915 requests were forwarded by the Office with 9,124 approvals and 602 rejections.
Approximately 5,800 applicants were transferred to other countries in the same period, while 6,543 applicants are included in scheduled flights./IBNA